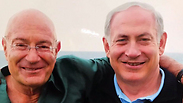 Milchan and Netanyahu
Photo: Courtesy of Channel 2 News
Prime Minister Benjamin Netanyahu presented his investigators in the latest round of questioning this week with a series of pictures of him and his family with businessman Arnon Milchan—who is believed to have given the Netanyahu family illicit gifts—in a bid to prove that he and Milchan were merely good friends, and that any gifts given were done so out of friendship rather than business pursuits, Channel 2 reported Thursday evening.

The prime minister, beleaguered by a host of corruption investigations, is set to be questioned for a sixth time on Sunday, with a focus on the Milchan affair, commonly referred to as "Case 1000."

The photos presented show Netanyahu and Milchan smiling for the camera with their arms around one another, while another one shows the duo walking together while holding the hands two of their children, whose faces cannot be identified.

In one of the photos, Netanyahu is seen playing with one of the children, and in another one, Milchan is greeting Netanyahu at a front entrance of a house, while being embraced by a child.

In an effort to buttress the claim, photos were also presented featuring the prime minister's wife Sara, who is seen posing for the camera with Arnon Milchan's wife Amanda.

Another photo shows her in a cordial conversation with Arnon Milchan, while another shows the Israeli premier and his wife smiling with Milchan and a child.

Investigators have indicated that the protracted affair should be wrapped up by mid-December, implying that the next round of questioning will be the last for the prime minister.

Officials privy to the details of the investigation are divided, however, on how to proceed. According to reports, a general consensus has been formed that arraigning Netanyahu for bribery, or at least for receiving illicit benefits, is justified.

Milchan however, convinced the police to consider revising their conclusions, which were leaning toward indicting him, after he provided testimony last week that appeared to refute Netanyahu's claims and indicated that while he had vouchsafed the gifts, the decision to do so did not stem from friendship, but rather from pressure.

"At some point I gave my staff carte blanche to give (the Netanyahu couple—ed) whatever they wanted," he said.

When asked why he did so, Milchan replied, "I neither wanted anything from them nor received anything."

Nevertheless, some of the investigative staff insist that Netanyahu and Milchan will have to be indicted together, citing difficulties in explaining to the courts why only the Hollywood magnate has been let off the hook. "In the end it will look like a witch hunt against him," one official said.

Some investigators have also echoed Netanyahu's claims in justifying a decision to give Milchan a pass and refrain from recommending an indictment against him, acknowledging his significant contributions to the state over the years.

Milchan's spokesman Ronen Tzur refused to provide any comment on the matter.