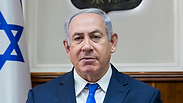 Prime Minister Benjamin Netanyahu
Photo: Olivier Fitoussi
Netanyahu says he helped Milchan due to his contribution to Israel's security
During four-hour interrogation, police investigators confront the prime minister with the testimonies provided by his former chief of staff Ari Harrow, who turned state's witness, and billionaire Arnon Milchan, who allegedly supplied Netanyahu and his wife with gifts worth hundreds of thousands of shekels.
Prime Minister Benjamin Netanyahu repeatedly stated he did not take advantage of his position and power to promote the interests of his friends and associates in exchange for bribes, during his four-hour police investigation on Thursday at the Prime Minister's Residence. It was Netanyahu's fifth interrogation on bribery allegations and the first interrogation since his former chief of staff, Ari Harow, turned state witness.

During the investigation, Netanyahu was confronted with Harow's testimony, as well as with the suspicions raised in billionaire Arnon Milchan's recent testimony in the illicit gifts affair (also known as Case 1000), which is looking into billionaire Arnon Milchan's gifts to Netanyahu and his wife, Sara.

Among other allegations, it is said that Netanyahu had pushed for Milchan to receive a US visa by contacting then-US state secretary John Kerry three times on the matter and and protecting Milchan's investment in the Channel 10 franchise.

In exchange for Netanyahu's help in these matters, the Israeli-born Hollywood producer allegedly gifted the Netanyahus with hundreds of thousands of shekels' worth of cigars and champagne.

The prime minister was questioned under caution on bribery allegations based on Harow and Milchan's testimonies. Netanyahu stuck to his version he had never intended on giving Milchan anything in return for his gifts.

According to a report by Channel 2 News correspondent Amnon Abramovich, Netanyahu was instructed by his lawyers to address Milchan's testimonies as a state's witness's testimonies.

Attorney General Avichai Mandelblit and State Attorney Shai Nitzan will receive the transcripts of the prime minister's interrogation and make a decision on how to move forward with the investigation.

In the past two weeks, excluding the days he spent in London on an official visit, Netanyahu consulted his lawyers, Jacob Weinroth and Amit Hadad, several times on the version he would provide his investigators with.

Netanyahu, according to the Channel 2 report, told the investigators that he had received legitimate gifts from Milchan as part of his years-long, consecutive friendship with the billionaire. Netanyahu's version is that he only helped Milchan because of his contribution to Israel's security, just like he helped former Mossad Director Meir Dagan, who was his rival, when he was fighting cancer and had to undergo a liver transplant in Belarus. Milchan, however, told the investigators that he was forced to recruit other donors to share the burden of funding Netanyahu's expensive gifts.

As for the Channel 10 franchise, Netanyahu's version is that he preferred Milchan would sell his shares to businessman Len Blavatnik rather than to the other potential buyer, advertising mogul Ilan Shiloach, because he "wanted that the Channel would have a sympathetic owner rather than a hostile one," and not because the NIS 10 million which Milchan allegedly earned from the deal.

As for gifts he received from other wealthy businessmen, Netanyahu's version is that this is a legitimate custom among friends.

The other affair Netanyahu was questioned on Thursday is his recorded conversations with Yedioth Ahronoth publisher Arnon Mozes (also known as Case 2000). The two are suspected of discussion a deal that would aid Yedioth Ahronoth in the print market in return for a more favorable coverage of the prime minister in the paper.

Mozes allegedly told Netanyahu in one of their discussions: "We worked things out wonderfully in the 2009 elections. Have you forgotten?" According to Channel 2, the investigators are attempting to find out whether the two had reached some kind of a business deal in 2009.

Arnon Mozes is the publisher and owner of Yedioth Ahronoth Group, which includes Ynet.