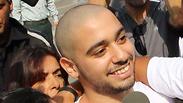 Elor Azaria
Photo: Motti Kimchi
Elor Azaria asks President Rivlin for pardon
The former IDF soldier, imprisoned for shooting dead a neutralized terrorist, asks the president for clemency, claiming: 'I unfortunately did not receive a just trial'; he allows that 'Had I known for certain the terrorist was not carrying a bomb—I wouldn't have shot him.'
Former IDF soldier Elor Azaria, who is imprisoned for shooting dead a neutralized terrorist in Hebron, asked President Reuven Rivlin for a pardon on Thursday.

"I unfortunately did not receive a just trial," Azaria wrote in his request. "This is how I feel, and nothing can change it. In any case, I ask for a measure of justice and mercy, the essence of the presidential pardon, from His Honor the President in this request."

Azaria was convinced of manslaughter and sentenced to 18 months in military prison, but last month IDF Chief of Staff Gadi Eisenkot decided to shorten his sentence by four months. He began serving his sentence in August, after a series of appeals and postponements.

"I read and hear the reactions to my decision not to express remorse for shooting the terrorist," Azaria wrote to Rivlin. "That is inaccurate: Had I known for certain, in those tense seconds on the scene, that the terrorist was not carrying a bomb—I wouldn't have shot (him), clear and simple. Therefore, and only in hindsight, shooting the terrorist was an operational mistake."

Azaria went on to write: "The trial is behind us, Mr. President. I accepted the judgment. I'm sitting in prison, far from my family, isolated from the world. Believe me, I am sitting and thinking of the circumstances: An Israeli soldier whose freedom was taken from him because he acted against the evildoers who came to shed Jewish blood."

"We would never again be the same Azaria family from Ramla," he continued. "I believe we've been punished harshly, even without me serving the entire sentence given to me. This is the time for mercy. I wish to return to my family, to help mend what has been broken, to help my parents return to their former lives and to try to rehabilitate myself after this difficult experience that befell us because of my decision to serve my country, my homeland, faithfully."

Only two junior officers from the Kfir Brigade have agreed to recommend to the president to pardon Azaria—both served as deputy commanders in companies he served in. Other officers who recommended clemency were from the Nachshonim base, where Azaria was held in open detention during his trial.

The more senior commanders, Company Commander Maj. Tom Na'aman, Battalion Commander Lt. Col. David Shapira and Brigade Commander Brig. Gen. Guy Hazut, whom Azaria accused of lying during the trial, avoided recommending pardon.

Rivlin's office said on Thursday the plea would be considered by "relevant authorities," in consultation with the Defense Ministry and the IDF.