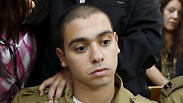 IDF chief slashes Azaria's sentence by four months
Elor Azaria, who began serving his 18-month prison sentence for shooting dead a neutralized Palestinian terrorist, has prison term reduced by Gadi Eisenkot; 'I found it appropriate out of kindness and mercy,' says Eisenkot; 'I am grateful to the chief of staff. I acted out of a sense of danger,' Azaria maintains.
IDF Chief of Staff Gadi Eisenkot reduced on Wednesday the prison sentence by four months of Elor Azaria, who was convicted by of manslaughter in January after shooting dead a neutralized terrorist who carried out a stabbing attack just moments earlier in Hebron last year.

Azaria was sentenced to a year and a half in prison in February, dividing the country and giving rise to a string of legal appeals.

"Your conduct was unacceptable and was contrary to the army's command and values of the IDF," Eisenkot wrote, qualifying the sympathy behind his decision.

However, he added that "I found it appropriate to weigh considerations of kindness and mercy, taking into account his past as a combat soldier in the operational arena."

Nevertheless, in the statement issued by Eisenkot, Azaria was rebuked for "the fact that you didn't take responsibility for your actions and that you never expressed regret."

Azaria, who first received the news of his trimmed sentence while his family were paying him a visit in prison, issued a response of gratitude to Eisenkot.

"I am grateful to to the chief of staff for reducing my sentence. He says that he decided to do it out of kindness and mercy, something which God gave to each and every one of us," Azaria wrote.

"With that, I regret that the Military Advocate General recommended to the chief of staff not to shorten my sentence even by one day. Our enemies, it must be remembered, have no kindness or mercy. They are murderous and hateful."

Azaria then maintained that he had shot the terrorist out of a genuine desire to prevent him from detonating an explosive belt.

"I repeat once again that I acted out of a sense of danger in the area of the attack in Hebron against a terrorist who came to murder," Azaria continued, before evoking the biblical proverb "And he came to kill you who rose to kill him."

Turning his focus to other attacks that have plagued Israel in recent months, including Tuesday's deadly terror attack in Har Adar in which a terrorist shot to death three Israeli security personnel and wounded a fourth, Azaria said that they exemplified the validity of the command.

"In Har Adar yesterday, on the Temple Mount a few months ago and in may other places in our land, we have experienced more and more incidents which illustrate how accurate this command is, when a low murderer cut off the lives of Israelis just because of ideology of hate," he stated.

"We are full of compassion, sanctify life and pursue peace and our enemies are hungry for Jewish blood. That is the reality.

"After everything, I will continue to serve my sentence with my head raised and I will pray to the creator of the world that I return home swiftly return home to my beloved family. I once again thank the people of Israel for their support all the way."

In August, Military Court of Appeals President Maj. Gen. Doron Piles rejected a request by Azaria to postpone his prison sentence.

Dozens of supporters assembled outside Prison Four in Tzrifin in August where Azaria began serving his sentence.

Speaking in an exclusive interview with Ynet on the eve of Rosh Hashanah, Eisenkot said Azaria should never have been handcuffed and lamented what he said had become a case exploited by military and political careerists.

"If you ask me today, in hindsight, if it was the right thing to put handcuffs on the soldier? My answer is no, but this is a longstanding procedure. Was it right to charge him with murder? This is another procedural manner no commander can influence. These are things I can't determine myself, as the decision here is professional, legal," said Eisenkot.

"I can only regret greatly the cynical exploitation of this event to drum up support, get publicity, try to influence commanders, try to influence the court. I think this is an undesirable situation."

In a final attempt to have his prison sentence fully commuted, Azaria sent a letter to Eisenkot asking for clemency and that that he substitute his sentence for community service, while informing him that he would not be filing an appeal to the Supreme Court.

In the letter however, Azaria stuck to his version of events saying that he had shot out of fear that the neutralized terrorist was wearing an explosive belt, thereby avoiding the expression of remorse.

"I wish to clarify that if I had known in advance what became apparent in hindsight—that there was no explosive device on the body of the terrorist—I would not have shot," Azaria wrote in the letter.