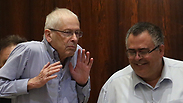 Begin and Bitan
Photo: Gil Yohanan
Bitan charges: Benny Begin is Zionist Union's 25th member
After removing Begin from the Knesset's Internal Affairs Committee for his refusal to vote for the police recommendation bill, Bitan says he expects Begin to 'represent the Likud's positions and vote according to them, and not according to his own private agendas.'
Coalition chairman David Bitan charged Thursday that fellow Likud member Benny Begin "represented the opposition's stance" on the police recommendation bill, accusing him of "being the Zionist Union's 25th Knesset member on a lot of issues lately."

Bitan removed Begin from the Knesset's Internal Affairs Committee on Wednesday due to his refusal to vote for the proposed legislation, which would bar police from making recommendations on indictments. Bitan said he himself would replace the deposed MK in the committee.

During the committee's discussion on the Likud bill proposal on Tuesday, Begin said that "This bill, in its current wording, does not determine when it begins to take effect, and I propose to fill in the blank in the following manner: The bill will apply to investigations that begin after it becomes law."

"I expected Begin to... be loyal to the party," Bitan told Ynet in an interview. "I can't run the Likud Knesset faction and the coalition when everyone does whatever he wants. There is no other way. Everyone is elected as part of a certain group with an agenda led by this group."

Begin's removal was met with criticism from the opposition. Zionist Union leader Avi Gabbay charged that Prime Minister Benjamin Netanyahu "takes revenge via his messengers," while Yesh Atid leader Yair Lapid argued that "ousting the symbol of integrity symbolizes the loss of the way."

Bitan insisted on Thursday that Begin "was not ousted, he was replaced. There's a difference," and insisted that "Begin is an MK from the Likud Party. He needs to represent the Likud's positions and vote according to them, and not according to his own private agendas."

The coalition chairman said that because of Benny Begin's "special status"—as the son of Likud founder and former prime minister Menachem Begin—"I have avoided going into this conflict with him for a long time, and I had talks with him many times about all sorts of reservations he had at the Constitution Committee, but there's a limit."

In light of Begin's positions, Bitan said he offered to replace him in votes rather than remove him from the committee altogether, but Begin refused.

"The Likud represents the Likud's positions today, not the ones from 50 years ago," Bitan further stressed. "I expect him to represent what his father represented: if he got elected through a certain party, he represented that party."

The so-called recommendations bill was approved by the Knesset in a preliminary reading two weeks ago with a majority of 52 in favor and 42 against. Kulanu MK Rachel Azaria, a member of the coalition, voted against the legislation.

The coalition agreed the bill will be further promoted only with the approval of Internal Security Minister Gilad Erdan and Justice Minister Ayelet Shaked.