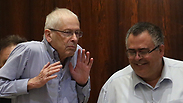 MKs Begin (L) and Bitan
Photo: Gil Yohanan
Bitan deposes Begin from Interior C'tee over recommendations bill
Coalition Chairman Bitan announces decision to dismiss fellow Likud member Begin from Internal Affairs C'tee over his refusal to vote in favor of recommendations bill, despite coalition discipline; opposition leader Gabbay slams dismissal, saying it 'shines pathetic light on coalition's silence of the lambs.'
Coalition Chairman MK David Bitan (Likud) notified fellow party member MK Benny Begin Wednesday that he was removing him from the Knesset's Internal Affairs Committee due to his refusal to vote for the bill barring police from making recommendations on indictments, and that Bitan himself will be replacing the deposed MK until further notice.

Chairman of the Knesset's House Committee MK Yoav Kish (Likud) notified the parliament's plenum of the transition. Begin then released a statement saying the change was not done at his behest.

The move aroused the opposition's ire. Zionist Union Chairman Avi Gabbay responded, "Begin's opposition to the bill shines an exceedingly pathetic light on Likud MKs and coalition heads' embarrassing 'silence of the lambs.' What else needs to happen for heads of the coalition's parties to say they're sick of the corruption and dismantle the government? The prime minister is exacting his vengeance—using his proxies—on an MK as honest as Begin for refusing to support a corrupt, personal bill intended to save him from political inquiries."

"Under Netanyahu's reign, Likud has turned into a party whose sole purpose is to supply him with a human shield against Israel's gate keepers," Gabbay accused.

Yesh Atid Chairperson Yair Lapid also commented on the dismissal, saying, "What else can they do to pass the recommendations bill? Begin's removal from the Internal Affairs Committee signifies they have lost their way more than anything else could. If Netanyahu's 'emissaries' are asked to depose Begin, the symbol of integrity, decency and statism, to pass a law, you truly can understand something stinks around here."

MK Meir Cohen, also of Lapid's party, concurred. "Begin was deposed because today's Likud cannot contain a member who still hoists the flag of justice and integrity and prefers the favor of the people over the favor of politicians," he said.

The parliament's Internal Affairs Committee held a discussion on the recommendations bill—also forbidding police from publishing a summation presenting sufficient evidence to indict—Tuesday. Likud's MK David Amsalem, the committee's chair, confronted State Attorney Shay Nitzan, who vehemently objected to the bill and hinted at its relation with Netanyahu's investigations, during the discussion.

"Our role is not to replace the police. It's the public's interest," Nitzan said.

"The police puts out slanderous announcements," Amsalem retorted angrily.