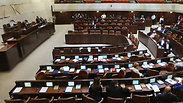 The Knesset plenum
Photo: Gil Yohanan
'Recommendations bill' clears first Knesset reading
Bill passes first reading by 46-37, moving a step closer to barring police making recommendations on indictments; 'Bill has nothing to do with PM. It's about human rights,' says bill's chief proponent MK Amsalem; Lapid derides claims: 'Public's benefit—as if, not a personal law—as if.'
The recommendations bill, barring police from making recommendations on indictments, passed its first reading Monday evening, garnering 46 votes for, and 37 against, following hours of fiery debates in the Knesset plenum.
The vote came just hours after the bill's passage through the Internal Affairs Committee, with MK Benny Begin (Likud) being deposed and replaced by Coalition Chairman MK David Bitan (Likud), thus ensuring it received enough votes to make it to the Knesset vote.
During the plenum discussion, MK Amsalem said he was "observing from the human rights angle with this bill," before preempting accusations that the bill was being pushed at Prime Minister Benjamin Netanyahu's personal behest.
"It has nothing to do with the prime minister, I never even consulted him," Amsalem said.
Amsalem, the chief architect of the controversial bill, then set out his primary justifications for the bill, insisting that it had nothing to do with cushioning Netanyahu from a string of corruption investigations.
"In the State of Israel, some 30,000 cases ever reach the State Attorney's Office (SAO) out of 350,000. Of those 30,000, and this isn't my data but data presented by (State Attorney) Shay Nitzan, police recommend the SAO close 12,000 of them," he said.
"That leaves 18,000. Police tell the State Attorney's Office there's 'sufficient evidence to indict' and of those the SAO closes 14,000 and takes the remaining 4,000 to trial. In other words, 80 percent of the cases police recommend indicting is later closed by the SAO. What happens along the way? The lives of the people involved are completely ruined," Amsalem bemoaned.
Taking to the podium to deliver his remarks on the bill, Yesh Atid Chairman Yair Lapid rebuffed Amsalem's claims, insisting that he was concealing its true raison d'être under the guise of human rights.
"People can stand up here and lie for only so long. Is this about the 30,000 cases? This law pertains to several dozen cases, the only cases to have an accompanying attorney, and that doesn't even matter. This law was meant for one man and for his investigations. "The public's benefit'—as if, 'not a personal law'—as if," Lapid chided.
"The prime minister's Chief of Staff Yoav Horowitz sat with them the entire time to ensure the law was completely up to the prime minister's specs. (Netanyahu was hoping) for someone to please save him from all of the investigations because he's scared to death," the Yesh Atid chairman mocked.
"What truly frightens (Prime Minister Netanyahu) is that there are so many more details pertaining to the investigations the public is not yet familiar with and that he doesn't want the public to know. When his replies are made public, when investigators sit in front of him and ask, 'Mr. Prime Minister, why did you approve the sale of submarines to Egypt without notifying the Ministry of Defense?' and 'Why did you send (former chief negotiator and confidant Yitzhak) Molcho to Germany without anyone's approval?' He doesn't want you to know the answers," Lapid continued, firing off a salvo of reasons for why the bill is directly linked to the prime minister.
"That's what this bill is for, before investigators have a chance to get to him and before recommendations are made public," he said at the peroration of his address.
"It was born of sweaty, petrified anxiety of his investigations and what the public will find out. It's an attempt to silence the attorney general, the police and the entirety of Israel's free press," Lapid said.
MK Tzipi Livni (Zionist Union) joined the onslaught against the bill's proponents. "There's a corrupt man who brings another piece of legislation each day to obscure that fact, and we'll fight for Israel's image," she vowed.
"The true debate on issues of paramount importance will be held with honest people, with clean hands, people who do not cover up corruption and don't collude with a corrupt, prime minister who also corrupts others, because the face of this country is beautiful," Livni said.
"This country has outstanding people and they deserve a prime minister who thinks about what will benefit them, and not him personally, and does not live off others but rather is concerned for others. Someone who does not seek to paralyze the police but strengthens it," Livni added.
Moran Azulay, Tova Tzimuki and Eli Senyor contributed to this article.