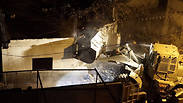 The demolished home
Photo: IDF Spokesperson's Unit
The IDF demolished the home overnight Thursday of a terrorist from the village of Qabatiya who murdered Israeli Reuven (Moti) Shmerling in Kafr Qasim in October, sparking violent outbreaks during which Palestinians threw stones at the demolition forces and set tires on fire.

Soldiers dispersed the crowds and no injuries were reported in the incident.

Mohamad Abu al-Roub, 19, and Youssef Kamil, 20, were indicted for the murder of Shmerling, an Elkana resident, during the festival of Sukkot. The two were arrested shortly after on suspicion of being involved in the attack.

They had entered Israel illegally using the help of an illegal migrant transporter and resided and worked in the country for two weeks.

Footage of Abu al-Rob's home's demolition (צילום: דובר צה"ל)

They confessed under Shin Bet interrogation to have decided to carry out the stabbing attack in revenge of the death of their friend, Ahmad Abu al-Roub, who was killed during an attempted stabbing attack in the Jalamah crossing in 2015, as well as in retaliation to events in the al-Aqsa Mosque.

The interrogation also revealed that one of the terrorists planned to carry out a stabbing attack against Jews before entering Israel and decided to use his illegal entry into the country to realize the plan.

The two had purchased a knife in order to carry out the attack and planned its details, including an escape route.

Confessing their involvement, the two reconstructed how the murder was committed, telling investigators they had used a knife, a pickax and a fan.

The version of events corresponded with the findings at the scene, with all of the stated objects being stained with Shmerling's blood.

Security camera footage from the scene showed one of the terrorists walking with Shmerling to his car to load a car battery and the other terrorist was later seen leading him to the room in which he was murdered.

The two also published Facebook posts days before the attack, which strengthened the assessment their motive was nationalistic.

The two had entered Israel illegally in September, the indictment said, and stayed in a room on the premises of the coal storage center Shmerling managed. At some point Kamil suggested to Abu al-Roub they murder one of the Jews who worked in the storage center.

Shmerling's heavily mutilated body was found on Sukkot eve in the imported coal storage center belonging to his family in Kafr Qasim's industrial zone.

Police initially suspected Shmerling was beaten to death over a monetary dispute with the Palestinians he employed, but the Shin Bet investigation indicated that he had been murdered in a terror attack.

Shmerling was killed one day before he was to celebrate his seventieth birthday with his four children and 19 grandchildren.