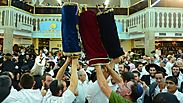 Carousing with the Torah
Photo: Israel Bardugo
With the High Holy Days now over, Jews in Israel celebrated the end of Simchat Torah on Thursday night, with Second Hakafot events held nationwide, marking one last joyous hurrah before a return to normalcy.
Hakafot (Hakafah in singular) is a Jewish custom in which the worshipers walk or dance around the synagogue's reader's platform with the four species on each of the seven days of the holiday. Second Hakafot, held at the conclusion to Simchat Torah both in Israel and abroad, are the same ceremony enacted outdoors.
Elkana recovers from murder
Second Hakafot events in the settlement of Elkana saw joy intermixed with great sadness. This is the fifth time the settlement celebrated Second Hakafot, this time dedicated to the memory of Reuven (Moti) Shmerling, who was murdered on Sukkot eve, with the third Hakafah dedicated to him.

Shmerling's family began sitting Shiva (the 7-day Jewish mourning period) only Thursday, when the holiday ended, and were therefore not present, but his granddaughter Nir Betzer spoke at the event.

"Exactly a week ago my dear grandfather, Reuven Zerach Shmerling—who we called Grandpa Moti—was so cruelly taken away from us by miscreants," she said.

"Grandpa was a one of a kind person, whom we got to know closely and enjoy some wonderful years by his side, learning from his good graces and extraordinary qualities. Grandpa was a man of grace and boundless, anonymous charity, he was a man of peace and the love of man—any man, regardless of religion or race," his granddaughter continued.

"Grandpa was a family man, who gave each and every one of us the feeling we were his favorite. But more than anything else, Grandpa was a man of joy! Everywhere he'd go, he'd bring an air of a sheer joy for life with him. His sparkling blue eyes also glowed with warmth, love and mirth.

"Grandpa was both born and taken away during Sukkot, on the day he turned 70. And such a fitting time it is, during a holiday commanding you to be joyous. That was exactly what my grandfather was all about, emanating joy at all times. We, his family members, who had to 'hold back' all customs of bereavement during the holiday, now share a special joy at the fact God is with us and for having had the fortune of having such a special grandpa whose memory will never leave our hearts.

"We feel the legacy of joy he has instilled in us will be forever with us, and this year's Hakafot during Simchat Torah will grow even stronger as a result, instilling his legacy to all the people of Israel," she concluded her moving eulogy.
A tradition begins: Hakafot at the Kotel
The Western Wall inaugurated its own Second Hakafot events with a band and many revelers, in what some hope will become an annual tradition.
The Kotel has some 100 Torah books, enough for people to dance with and carry out the traditional seven circles, or Hakafot.
Second Hakafot at the Western Wall (צילום: הקרן למורשת הכותל)
Hakafot at the Barby
Meanwhile, at the Barby club, Tel Aviv's well-known rock institution, Hakafot have been a tradition for eight years now, first initiated by the Rosh Yehudi center in Tel Aviv.

The Barby events are now a hallmark of the holiday, with thousands of joyous participants rocking to the tunes of Yoni Genut and the Nosei Hakelim band until the wee hours of the morning.

This year, the Barby event was attended by several VIPs, including the police commissioner, who was honored by doing a Hakafah himself; Deputy Minister of Defense Rabbi Eli Ben-Dahan; Bayit Yehudi MK Shuli Mualem-Refaeli; and Minister of Justice Ayelet Shaked, who welcomed the US's decision to withdraw from UNESCO before a cheering crowd.

A star-studded Second Hakafot at Tel Aviv's Barby club (צילום : חגי דקל)

The evening was kicked off at Dizengoff Center, where partygoers removed the Torah scrolls from the synagogue and marched in a dancing procession towards the club. The party then combined modern workings of Hassidic music and contemporary Jewish music.

According to Barby owner Shaul Mizrachi, "Everything started when I was contacted to do Hakafot at the club. At first, I didn't know what exactly that entailed, but when I saw the unbridled joy experienced by both the partygoers and I, I decided to make it a tradition and open the Barby's gates every Simchat Torah for Hakafot. After the celebrations, people walk up and thank me, but all the thanks I need are the people who come in every year and make it the experience it is."
The tradition continues in Rabin Square
Second Hakafot in Rabin Square (צילום: קובי ריכטר/TPS)
Hassidic dancing in Mea Shearim
Giv'at Shmuel: Festivities at the religious-Zionist bastion
In Giv'at Shmuel, widely regarded as a stronghold of religious Zionism, thousands of the town's residents danced alongside members of the Bnei Akiva and Ezra youth movements.

Netanel Kuperman, a proud resident of the town, presided over the party with his band.

Second Hakafot in Giv'at Shmuel (צילום: שלומית מנטל)

Similarly to Elkana, the Giv'at Shmuel festivities were also not without a hint of sadness, as the third Hakafah was dedicated to Hadar Goldin, Oron Shaul and out Israeli MIAs, following a call made by Israel's chief rabbis on Sukkot eve to dedicate the Hakafah to "our brothers whose location is unknown."
Bnei Akiva yeshiva brings joy to patients at Sheba
As they do every year, students, parents and teachers from Giv'at Shmuel's Bnei Akiva yeshiva—led by yeshiva head Shraga Fruchter—went out to bring some happiness to the patients hospitalized at the Sheba Medical Center at Tel Hashomer and their families.
Dimona: Celebrating in the south