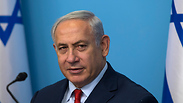 PM Netanyahu
Photo: Amit Shabi
Netanyahu compares Nazi regime's, Iran's 'commitment to murder Jews'
Speaking in a pre-recorded speech to the Washington Saban Forum, Israeli premier cites Saudi Prince's recent remarks slamming Iran's supreme leader as 'the new Hitler in the Middle East'; Acknowledging 'important differences,' PM draws parallels in 'ruthless commitment to impose tyranny and terror' and 'to murder Jews.'
Prime Minister Benjamin Netanyahu compared Sunday the Iranian regime to Nazi Germany, saying in a pre-recorded speech to the Saban Forum in Washington that both were relentlessly committed to imposing tyranny and terror, and 'murdering Jews.'

"The Crown Prince of Saudi Arabia recently referred to President Rouhani as 'the new Hitler in the Middle East,'" Netanyahu said in reference to Mohammed bin Salman's recent comments in which labelled Iran's Supreme Leader Ali Khamenei as "the new Hitler" in an interview with the New York Times' Thomas Friedman.

"Obviously there are some important differences between Nazi Germany and the Islamic Republic of Iran, but both regimes do have two important things in common: one a ruthless commitment to imposing tyranny and terror, and second, a ruthless commitment to murder Jews," Netanyahu said.

Netanyahu also reiterated Israel's policy that it would not allow Iranian military entrenchment in Syria in the speech that was taped on Thursday, a day before Israel allegedly attacked an Iranian base in Syria.

Beginning his remarks in jocular fashion, Netanyahu said "This year I want to talk about a topic that I almost never bring up: Iran. Just kidding," before telling his listeners that if they were in his shoes "you'd talk about Iran too."

Setting the context of the comparison, Netanyahu explained how the world reacted to Adolf Hitler's rise to power, highlighting the then British Prime Minister Neville Chamberlain's policy that became known as 'appeasement,' symbolized by the famous 1938 agreement in which Hitler was permitted to take over portions of Czechoslovakia on condition that he committ to no further territorial expansion.

"Apparently after a Munich, Chamberlain said 'Well. Hitler wasn't such a bad fellow after all,'"

Foreign Minister Anthony Eden, Netanyahu said, would later reflect on the meeting between Hitler and Chamberlain.

"'The hardest thing for me at that time was to convince my friends that Hitler and Mussolini were quite different from British businessmen or country gentlemen,'" Netanyahu quoted.

"'My friends simply refused to believe me. They thought I was biased against the dictators,'" Netanyahu continued to quote.

Netanyahu then turned to a statement by Hitler as quoted in the Daily Mail in 1938.

Clip from the speech (צילום: דוברות רה"מ)

"'Believe me,' Hitler said. We shall never fight against except in self defense...' which brings us back to Iran," Netanyahu continued, mockingly describing the Iranian "silver-tongued foreign minister" who "charmingly explain(s) that Iran is a moderate power which harbors no hatred toward anyone. Right.

"Mr. Zarif: Tell that to the journalist tortured in Evin prison. Tell that to students shot dead in the streets. Tell that to the hundreds of thousands of dead Syrians killed by Iran's proxies" Netanyahu said, continuing the list of human rights violations and atrocities committed by the Iranian regime.

"I speak so often about Iran because I read history. When tyrants call for the destruction of my people, I believe them," he stressed. "I don't have the luxury of discounting their genocidal threats."

"So let me reiterate Israel's policy," he went on. "We will not allow a regime hell-bent on the annihilation of the Jewish state to acquire nuclear weapons. We will not allow that regime to entrench itself militarily in Syria as it seeks to do for the expressed purpose of eradicating our state."

Netanyahu also praised President Trump for creating an opportunity to fix what he has frequently described as blatant pitfalls in the Iranian nuclear agreement signed under his predecessor Barack Obama.

Finally, Netanyahu predicted the day when the Iranian regime "will fall."

"Israel will be the first in line to restore relations and rebuild our great partnership," he said.