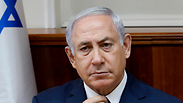 Prime Minister Netanyahu
Photo: AP
Netanyahu: We won't allow Iranian military entrenchment in Syria
In speech for Saban Forum pre-taped on Thursday, a day before the alleged Israeli strike on an Iranian base in Syria's al-Kiswah, the Israeli PM reiterates Israel's policy: 'We will not allow a regime hell-bent on the annihilation of the Jewish state... to entrench itself militarily in Syria.'
WASHINGTON - Prime Minister Benjamin Netanyahu reiterated Israel's policy that it would not allow Iranian military entrenchment in Syria in a speech the Saban Forum in Washington taped on Thursday, a day before Israel allegedly attacked an Iranian base in Syria.

"We will not allow a regime hell-bent on the annihilation of the Jewish state to acquire nuclear weapons. We will not allow that regime to entrench itself militarily in Syria as it seeks to do for the expressed purpose of eradicating our state," Netanyahu said in English in the pre-taped speech, which will be screened on Sunday.

Arab media outlets reported Saturday Israel attacked an Iranian base near the town of al-Kiswah, 15 kilometers southwest of Syrian capital Damascus. Arab-language Sky News reported that Israeli fighter jets launched air-to-surface missiles from Lebanese airspace at the compound.

Excerpt from Netanyahu's speech to Saban Forum (צילום: דוברות רה"מ)

A BBC report revealed the base's existence three weeks ago, showing satellite images of the compound, located 50 kilometers from the Israeli Golan Heights.

Media outlets affiliated with Syrian President Bashar Assad's regime and with Hezbollah reported the jets attacked a stockpile of ammunition belonging to the Syrian Army's First Division between the towns of Sahnaya and al-Kiswah.

The attack was carried out using five missiles, whereas antiaircraft systems deployed in a military airport in the Mezzeh neighborhood of the Syrian capital were able to shoot down three of them. The remaining two missiles detonated near the cache.

"The Israeli enemy launched...several surface-to-surface missiles towards a military position," state television said, adding there had been "material losses" at the site.

The Hezbollah-affiliated Lebanese Al Akhbar newspaper reported the Israeli jets conducted several dummy raids over Lebanese territory, with one of them used to attack the stockpiles, which were located in a vast military complex larger in size than Lebanese capital Beirut, the report said.

The Syrian Observatory for Human Rights reported loud explosions clearly audibly throughout Damascus and its outliers and light flashes seen around the capital. The Observatory further reported power outages in many areas of the Syrian capital.