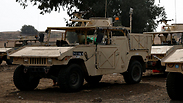 IDF forces near Gaza last month
Photo: EPA
2 rockets launched at Israel from Gaza, IDF retaliates
In wake of mounting tensions following President Trump's speech, 2 missiles launched from Gaza at Israel, do not make it across border; Code Red alert sounds in Sderot, Hof Ashkelon and Sha'ar HaNegev Regional Councils; IDF strikes 2 terrorist posts in Gaza in retaliation, says considers Hamas responsible for any fire from strip.
Palestinian terrorists launched two rockets at Israel Thursday evening, causing a Code Red alert to sound in Sderot and the Hof Ashkelon and Sha'ar HaNegev Regional Councils. The rockets reportedly landed within the Gaza Strip itself.

The alarm sounded near 6:15 pm in several communities, prompting security forces to conduct scans in the area. The rockets were later found to have detonated outside Israeli territory.

The IDF said a tank and aircraft struck two terrorist posts in Gaza. The military added considered Hamas responsible for any fire emanating from the Gaza Strip.

IDF artillery fire rained down on a Hamas observatory post in the center of the strip, Palestinian reports said.

Last Thursday mortars were launched at an IDF outpost in near northern Gaza, in the vicinity of the Erez kibbutz. There were no casualties. In retaliation, IDF tanks and fighter jets attacked four Hamas and Islamic Jihad lookout positions near Beit Hanoun on the northeast edge of the strip.

10 mortars in all were launched, all falling in open land near the outpost.

IDF sources the mortar shell fire was targeting the army's outpost and nearby construction work on the Gaza obstacle project, which were stopped immediately thereafter.

The IDF said Islamic Jihad was behind the attack, which was revenge for the destruction of their border-crossing tunnel a month prior.

Since the tunnel was destroyed, tensions have been mounting on Israel's southern frontier with suspicion the Gaza terrorist organizations may retaliate. Iron Dome batteries have therefore been deployed in central Israel.

Code Red alarms have been triggered on several instances in different places around the Gaza Strip recently, but eventually were found out to be false alarms.