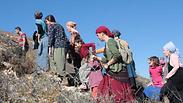 Qusra bar mitzvah trip completed
A week after being pelted with stones, parent retaliating by shooting, Avizur Libman returned with dozens of others—including Minister Ariel, Deputy Minister Hotovely—to complete his bar mitzvah trip; 'I'm not comfortable being here, but it gives me strength to keep my head up. I'm so happy this many people came here to allow me to celebrate again,' says bar mitzvah boy.
A week after the stone throwing and subsequent shooting incident near the West Bank village of Qusra, dozens of hikers returned to the scene Friday to celebrate the bar mitzvah of Avizur Libman, thereby completing the trip that was cut short due to the attack.

The hikers stopped off at the cave where the children hid last week to shield themselves from the stones thrown at them by Palestinians. Head of the Shomron Regional Council Yossi Dagan, Agriculture Minister Uri Ariel and Deputy Minister of Foreign Affairs Tzipi Hotovely all participated in the trip.

Avizur Libman completed his bar mitzvah trip Friday

Large IDF forces provided security for the trip, organized by the Shomron Regional Council, due to heightened tensions in the wake of President Donald Trump's speech recognizing Jerusalem as Israel's capital and the ensuing riots in the West Bank.

Council chief Dagan gave Avizur a present and said, "All Avizur and his friends wanted was to go on a trip and they were prevented from doing so. We wanted to remedy their—and all of the Israeli people's—awful experience."

The bar mitzvah boy himself said, "I'm not comfortable being here, but it gives me the strength to keep my head up. My bar mitzvah party was a difficult experience. I'm so happy this many people came out here to support us and allow me to celebrate again."

His mother, Racheli Libman, said, "It's both moving and difficult returning here, and thinking of the awful things my sons and the other children went through here. It gives me the chills. On the other hand, we chose to return despite the difficulty to send a message that we do not break easily. It is our right to freely hike anywhere in this country and that is the right we exercised today."

Agriculture Minister Ariel said, "I'm pleased to be hiking in Samaria with the children who were rescued from being lynched and were real heroes."

Deputy Minister Hotovely remarked, "It's the right of children to hike anywhere in Israel free of fear. This trip is a remedial experience for the bar mitzvah trip so callously interrupted with a violent attack. I'm here to support the children of Samaria and send an unequivocal message: we will not be cowed, we carry on."

Large police and military forces raided the village of Qusra early Thursday and arrested more than twenty Palestinians who were suspected of participating in disturbances taking place in the village in the last several days.

The Honenu legal defense organization that accompanies the families of the children who participated in the trip welcomed the arrest and appealed to bring additional culprits not yet apprehended to justice as well.