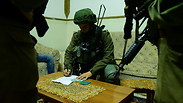 IDF forces in Qusra
Photo: IDF Spokesman's Office
Israeli security forces arrested 20 Palestinians from the village of Qusra overnight Wednesday suspected of being involved in the attack on a group of Israeli children hiking in the area and in the violent rioting that ensued following the incident.

During their raid, the forces found equipment stolen from the Israeli hikers. Among the suspects arrested were two minors.

Israeli forces arrest Palestinians in connection with Qusra attack

Last Thursday, a group of Palestinian rioters hurled stones at a group of 13-year-old Israeli children who were hiking in the area as part of a bar mitzvah trip.

One of the parents accompanying the group opened fire at the attacking Palestinians, killing one of them.

After the incident, the father who shot the Palestinian was questioned on suspicion of causing death by negligence and released on bail. Anger has soared among the settlers, largely directed against the police for interrogating the shooter.

Earlier this week, Israeli settlers who returned to the scene of the attack clashed with Palestinians, with one Israeli shooting and seriously wounding one of the Palestinians.

Dozens of Palestinians pelted the Israeli group with rocks, as IDF soldiers subsequently attempted to calm tensions by barring the activists from entering the area.

During the overnight raid Wednesday, IDF, Border Police, Israel Police and Civil Administration forces also arrested Palestinians suspected of inciting to terrorism. They were taken for questioning by the Israel Police.