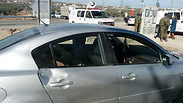 The car hit by rocks in Gush Etzion
Photo: Ma'ale Amos Security
A 9-year-old girl was lightly wounded Sunday morning when stones were thrown at a car she was traveling in with her mother and brother in Gush Etzion. Magen David Adom paramedics treated the girl, who was wounded by shards. An IDF forces dispersed the stone throwers using crowd control methods.

Miriam Eini, the girl's mother and resident of the Ibei HaNahal settlement, told Ynet, "We were driving from home to Jerusalem when suddenly stones began raining down on us. I saw the people throwing them. It was a real miracle."

A month ago Eini narrowly avoided disaster when a Molotov cocktail was thrown at her car while she was driving on the same road, but just missed her.

The mother was driving with her two children in the family car. "Just a short while before reaching a junction there's a sharp bend in the road, where you can't see anything ahead. I saw them immediately after the bend. Their faces were covered," Eini recounted.

"One threw the first rock, which hit my headlights, and then another that hit the window near my daughter. She was hit by both the rock and shards from the broken window. I then slowed down because a Palestinian car came in the other direction," she said.

"Then another stone was thrown, and hit the backdoor where my 3-year-old son was sitting. It's a miracle the stone hit the door itself and not the window. I carried on driving all the way to the junction, where soldiers saw to us," she concluded.

Eini then wished to send a message. "When will they understand a stone can kill? What happened to us this morning was a miracle. If those stones had hurt my children, it could have been much worse," she said.

Head of the Gush Etzion Council Shlomo Ne'eman commented on the incident, saying, "We cannot abide by a situation where every morning an Arab starts the day badly, they let off pressure by throwing stones at Jews. we can neither get used to it nor accept it."

Ne'eman noted it was "merely one incident out of many that happened to end with a miracle, and a small Jewish girl only being wounded. Her baby brother is traumatized. Rock throwing is attempted murder for all intents and purposes. We cannot abide by a law enforcement system that does not treat these incidents with the requisite severity."

"If (the Palestinians) need to receive special education, let their parents deal with it, and we'll deal with the parents," the council head threatened.

Masked men also threw stones on Wadi Ara's Highway 65 Saturday, with southbound lanes being blocked off for a time due to a protest taking place on Ar'ara Junction in protest of President Donald Trump's decision to recognize Jerusalem as Israel's capital.

The demonstration was uneventful, but dozens of masked men threw stones at police cars and buses passing nearby afterwards. The rioters also severely damaged the motorcycle of Yedioth Ahronoth photographer Gil Nechushtan.

Stones were also thrown at an Egged bus heading to Tel Aviv. The bus's windshields were damaged and the driver, 43, was lightly wounded by shards cutting his face and was taken to the Hillel Yaffe Medical Center in Hadera.

Magen David Adom reported that apart of the driver two lightly-wounded passengers were also treated on the scene. The bus stopped in Wadi Ara, near Haifa.

Police arrested two youths of Ar'ara on suspicion of throwing the stones. In the protest itself, protesters waved Palestinian flags and carried signs saying "Al-Quds (the Arabic name for Jerusalem—ed) is the capital of Palestine". Some 200 people attended, including Joint List MK Ahmad Tibi.