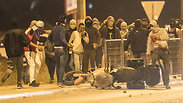 The photographer's destroyed motorcycle
Photo: Gil Nechushtan
In all my years as a Yedioth Ahronoth photographer, I've covered countless demonstrations, but nothing could prepare me for what transpired Saturday at the very heart of the State of Israel.

I arrived at Wadi Ara to cover a protest being held there (against President Donald Trump's decision to recognize Jerusalem as Israel's capital—ed) and parked my motorcycle alongside some police cruisers near a bus stop along Highway 65. At some point, rioters started pelting us with rocks, and Yasam (an elite police special forces unit) forces began dispersing protesters to get them away from the road. I remained close to the police officers, until it was decided to pull them back.

After the cops were pulled back, effectively leaving the junction unprotected, I found my facing dozens of masked men alone, who then started lobbing rocks at vehicles. I started running towards my bike, which was parked near a Yasam team, but when the rioters began pointing their barrage in our direction—and several rocks hit a police cruiser—the team's commander decided to pull out and explained he was instructed to do so immediately.

As an Israeli citizen, I expected the police forces on-site to conduct themselves otherwise. How could they have left Israeli citizens unprotected opposite an enraged mob? Is it not their duty to protect me, as well as any other commuters who happened to arrive at the riot that broke out in Highway 65?

Footage of the violent Wadi Ara protest

I had no time to reflect on it at the time. After being left alone opposite the masked crowd, I decided to start running along the road to get as much distance as I could between me and them. As I was running for my life, I saw some of the mob smashing my bike to pieces and it dawned on me that my decision to run may have saved me from being lynched.

I ran on and watched from afar as several dozen outlaws were wreaking havoc on one of the country's main thoroughfares. Only 15 minutes later—and after several attempts to reach the police by phone—was I successful in physically blocking the passage of a police car that happened to be passing by and told the officers what had happened. After radioing a request for backup, the Yasam team was called back to the scene.

As for me, I can only hope the next time the officers encounter a similar situation, they remember the oath they took when they joined the police's rank, when they swore to defend all of the country's citizens in every situation.

The Israel Police offered the following response: "We are unfamiliar with the photographer's account. An investigation in the matter is ongoing. After the incident a complaint was lodged regarding the damage done to his property, and an investigation was underway to locate and bring the perpetrators to justice."