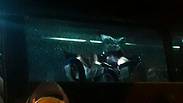 Scene of the attack
Photo: Sean Raznikov
An Israeli passenger was lightly wounded Thursday evening after stones were thrown at a traveling Egged bus in Wadi Ara near Haifa.

Emergency services received reports of the incident shortly before 9:30pm and security forces fanned out in the area to find the person responsible for the attack.

Scene of attack

The driver continued on the journey after the bus had been struck before reaching a police station in Ein Iron moshav in northern Israel.

The wounded woman was taken by Magen David Adom paramedics to HaEmek Medical Center in Afula.

"It is still not known who threw the rocks. An investigation has been opened on the matter and we will do everything to get the suspects," police said.

"The atmosphere is tense for us too. Everyone is talking about President Trump's declaration and they are taking it seriously," a resident in the area said in reference to President Trump's speech on Wednesday declaring Jerusalem as Israel's capital.

"In my opinion, the response will come from us too in the Arab sector, not just from eastern Jerusalem. The decision that Jerusalem is to become the capital of the State of Israel is going to cause a hard life."

Thousands of Palestinian protesters already poured onto the streets of east Jerusalem, the West Bank and Gaza to protest Trump's decision, leaving dozens injured in clashes with the IDF.

The Islamist terror group Hamas urged Palestinians on Thursday to abandon peace efforts and launch a new uprising against Israel in response to Trump's recognition.