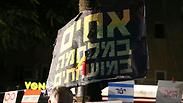 Protest in Tel Aviv
Photo: Motti Kimchi
Protesters march in Tel Aviv against government corruption for third week
Over 10,000 demonstrators march from Rothschild Boulevard to Habima Square in protest of 'foot-dragging' in investigations against PM Netanyahu; 'Corruption is a strategic danger to the society in Israel,' says religious-Zionist Rabbi Yuval Cherlow at rally.
Over 10,000 protesters marched down Rothschild Boulevard in Tel Aviv towards Habima Square on Saturday night for the third week in a row to demonstrate against government corruption and what they describe as foot-dragging in investigations against Prime Minister Benjamin Netanyahu.

At the beginning of the march, protesters sang a song befitting the Hanukkah holiday, "Sura Choshech" ('Go away, darkness!'). They also held a public lighting of the fifth candle of Hanukkah.

Protesters held up signs saying "Corrupted, we're fed up with you," "Corrupted, go home," "An entire nation held hostage by Amsalem," "Crime minister," and "Sweeping out the corrupted."




Rabbi Yuval Cherlow, a prominent religious-Zionist activist, was the main speaker at the rally. He was welcomed by calls of "brave man!" from his listeners.

"Corruption is a strategic danger to the society in Israel. Corruption means the exploitation of power by those given power, power that is being used not to the expressed purposes it was given for," Rabbi Cherlow said. "Power is vital, but it is dangerous and could send the country down to the abyss. The prophets warned power-holders from rulers' power."

"We are facing the danger of losing trust in the decision-makers. If we need an economic plan, how would we know it is for the benefit of the people? How are we going to have trust when we need to go to war?" the rabbi wondered.

"I call on the Israeli government to stop passing different laws under the guise of governance. They're trying to hurt other authorities," he added.

Protest organizer Meni Naftali said of Rabbi Cherlow, "He's not afraid of a corrupt government, he says his piece with ease and not fear, even when he was told 'this is a leftist protest.'"

Former Shin Bet director Ami Ayalon also spoke at the rally, saying "I came to the square only today because two weeks ago I was bothered by the prime minister's reaction to the protest. Saying that when Israeli flags are being burned around the world, we must unite and not protest against government corruption—that made it clear to me where I should be."

"I came to tell the prime minister what he doesn't want to understand: Government corruption is more dangerous for Israel than Hamas, Hezbollah and Iran," Ayalon added.

"I've led people into battle for many years, and I learned one simply truth from them: We have the might and power to fight any enemy. The people have the civil strength to grow and prosper during an ongoing struggle, and we've been doing that for many years. But this can only be done if the leadership is clean and uncorrupted," Ayalon continued.

"A corrupt leadership has no moral authority and will not have the power to send our young men and women into battle," he asserted. "A corrupt leadership has no moral authority to sign peace treaties and make concessions. A corrupt leadership has no authority to make laws, because they turn all of us into partners in that corruption. A corrupt leadership cannot lead us, and is a threat to us as a society."

"To those who see us as post-Zionist and haters of Israel, I tell the prime minister: This country is not yours. It is ours, all of the tribes, all of the Israeli society," Ayalon concluded.

Protest organizer Eldad Yaniv added, "This is the third week and Rothschild Boulevard is filled from end to end. There are thousands of people here. This is our victory picture. Don't be ashamed to show we're winning."

He went on to say, "In two weeks, the police commissioner will announce there is a recommendation to indict the prime minister for bribery. He tried to run away... but the struggle that has lasted for 56 weeks, and began in Petah Tikvah, is about to end."

Some 10 Likud activists held a counter protest, denouncing Naftali and expressing their support of Prime Minister Netanyahu.

Eldad Yaniv and Meni Naftali were able to draw tens of thousands of participants for the last two rallies—the likes of which have not been seen in Tel Aviv since the 2011 social justice protest.

"Yesterday (Friday), Bibi's (Netanyahu) seventh round of questioning concluded in Case 1000 and Case 2000. There have been NIS 800,000 in bribes given there, this is what Police Commissioner Alsheikh is going to tell the attorney general in two weeks," Yaniv wrote on social media, calling upon the public to come out and protest. "There's a massive drama developing. Bibi is sending AG Mandelblit to start a false and evil fight against Alsheikh to turn him into a 'traitor' and (discredit) the police's recommendations. The only way they understand is by having a boulevard filled with people."

Yaniv also addressed criticism after three participants in last week's rally wore an outfit with the letters BDS on it. "There's no use for all of the BDSers and liars coming to boulevard, they're insane. The protest against corruption has to do with both the Left and the Right. That is why Rabbi Yuval Cherlow is coming to speak. Our victory picture would be the see tens of thousands of people marching on the boulevard."

Meanwhile, some 350 people protested government corruption in Jerusalem, marching from Paris Square toward the Prime Minister's Residence. The residence's security, however, blocked access to Balfour Street, where the official residence is located.

Protesters held up signs saying: "Fascism now, anarchy later" and "The public won't remain silent, dictatorship is no laughing matter."

A similar demonstration was also held at the Tzemach Junction in northern Israel.