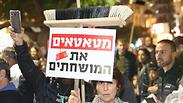 Protesters in Tel Aviv
Photo: Motti Kimchi
Tens of thousands protest corruption in Tel Aviv for second week
Following last week's 'March of Shame', more than 10,000 people turn up to protest government corruption, investigations into affairs of PM Netanyahu; simultaneous protests held in other cities; Likud: 'Instead of uniting behind Jerusalem with rest of country, left cannot help itself, prefers divisiveness.'
Tens of thousands of people congregated near Independence Hall on Tel Aviv's Rothschild Boulevard for a protest demonstration against governmental corruption, exactly one week after last Saturday's mass demonstration in the city.

Protesters cried out "We will not give in until you give out," "Bibi Netanyahu to Maasiyahu Prison," "Bibi versus the State" and "Shame, shame, shame."

Aerial footage of the Tel Aviv protest (צילום: דני שכטמן, מני נפתלי - למען הצדק והדמוקרטיה')

Rothschild Boulevard was blocked off to traffic, as were Allenby, Ehad HaAm, Yehuda HaLevi, Bilu and other streets and the vicinity.

The protest's organizers, carrying signs saying "Corrupt, go home," protested Coalition Chairman David Bitan, who was questioned by police this week, and railed against what they dubbed as "the lag in Prime Minister Netanyahu's investigations."

A handful of Likud activists staged a counter-protest several dozen meters away.

After the protesters arrived at the HaBima Square, the police shut down the generator protest organizers planned to use, claiming it did not meet safety requirements.

In protest of the generator being shut down, several hundreds of demonstrators made their way down Kaplan Street, marching past the Kirya IDF headquarters. The unplanned march led to the blocking of Ibn Gabirol Street on the corner of Kaplan Street.

Daphni Leef, one of the leaders of the 2011 summer social justice protest, led the marchers, who also briefly blocked the Azrielly junction. Those protesters later continued to Rabin Square, which was also not part of the original plan.

The protest is organized by Eldad Yaniv and Meni Naftali, renowned for organizing weekly Petah Tikva demonstrations opposite the home of Attorney General Avichai Mandelblit. The pair utilized social media and the Whatsapp instant messaging app to invite participants to attend.

"Yesterday what we said would happen, happened. When the corrupt get spooked by tens of thousands of people on the streets, they do what they do best. What do they do in the face of hope? They retaliate with violence to enflame the area," Yaniv said.

Yaniv then went on to posit that the prime minister—through the country's security forces—engineered riots all across the country to keep people away from the protest. "It's their way of getting us to give up. What scares the corrupt more than last Saturday night? This Saturday night," Yaniv declared.

"We want a new contract with politicians, without those colluding with tycoons. We want new leaders and a new contract. Politicians who work for us, not corrupt ones. Politicians who can see justice served," Yaniv said.

"No disabled people will be making NIS 2,000 (then). We'll continue coming here every Saturday night. If we come here every Saturday night, he'll go home in the winter," the former Labor Party Knesset candidate promised.

Co-organizer Meni Naftali spoke next, saying, "The prime minister fears demonstrations. Bibi tried to take people down so this protest doesn't take place, but here we are. All of the politicians—we haven't heard from (Labor Party Leader) Avi Gabbay and (Yesh Atid Chairman) Yair Lapid, we haven't heard from them in two years—have suddenly started talking about corruption."

"We'll march on HaBima and tell the prime minister to give back the reins and to Mandelblit – we haven't forgotten about you, we'll get to you as well," Naftali vowed.

The Likud party responded to the protest, saying, "On an evening where Prime Minister Netanyahu is representing the State of Israel in the face of attacks after President (Donald) Trump's historic declaration (recognizing Jerusalem as Israel's capital—ed), and during a time when protests are held all over the Arab world with Israeli and American flag burned, once again Tel Aviv hosts another left-wing demonstration."

"Instead of uniting behind Jerusalem, along with all other Israelis, thus presenting a united front to the world, the left cannot help itself and prefers dealing in divisiveness," the prime minister's party chided.

Simultaneous to the Tel Aviv demonstration, protests were staged elsewhere in Israel, in such places as Nahariya, Hadera, Afula, Netanya, Rishon LeZion, Modi'in, Jerusalem and Be'er Sheva.

In Haifa, protesters called out "Our country is not for sale" and "Disgraceful country that has corrupted at its helm."

At Paris Square, near the Prime Minister's Residence in Jerusalem, some 150 people gathered to protest, calling out "Prime minister, every Shabbat has an end. We'll keep coming every Saturday night until we eradicate corruption from the Knesset and the government."

The Jerusalem protest (צילום: גדעון בלסברג)

Last week's "March of Shame" against government corruption and what demonstrators said was foot-dragging in the investigations against Netanyahu made its way from Independence Hall on Rothschild Boulevard to Habima Square, and was organized by Yaniv and Naftali. Similar demonstrations also took place in other places in Israel.

The following day, Chairman of the Knesset's Internal Affairs Committee MK David Amsalem (Likud) announced a debate and vote scheduled to take place on his recommendations bill were canceled. The committee was to vote on the bill, barring police from making indictment recommendations, before it was brought before the Knesset for the final second and third readings.

Amsalem's announcement was precipitated by Prime Minister Netanyahu's own message, saying he was not interested in being included in the bill's purview. Netanyahu's message, and objections from within the coalition itself, forced Amsalem's hand and brought about the postponement.

Ahiya Raved, Moran Azulay and Yishai Porat contributed to this story.