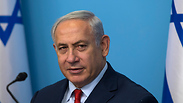 PM Netanyahu
Photo: Amit Shabi
Police grilled Prime Minister Benjamin Netanyahu Friday morning for four hours in a seventh round of questioning in the ongoing bribery investigation involving Israeli billionaire Arnon Milchan (Case 1000) and conversations that took place between the prime minister and Yedioth Ahronoth publisher Arnon Mozes (Case 2000).

The last round of questioning took place at the Prime Minister's Residence on Balfour Street in Jerusalem on November 19 for four hours.

Progress was made in the investigation when Australian billionaire James Packer corroborated testimony recently given by businessman Arnon Milchan, who claimed that expensive gifts given to Netanyahu and his wife were not gestures of friendship, but rather demands made by the couple.

In November, Netanyahu provided his version of events on his alleged acceptance of extravagant gifts from Milchan in exchange for promoting his business interests.

Following the latest investigation, the Prime Minisster's Residence issued a statement saying "There is nothing new under the sun. Again, I answered all the questions and I repeat and say with full confidence: There won't be anything because there wasn't anything. Thank you all for your wonderful support! Happy Hanukkah and Shabbat Shalom."

Arnon Mozes is the publisher and owner of Yedioth Ahronoth Group, which includes Ynet.