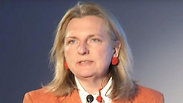 New Austrian foreign affairs minister compared Zionism to Nazism
Karin Kneissl, new Austrian minister of foreign affairs appointed by far-right Freedom Party, holds conflicting views on Israel: while she speaks Hebrew, studied at Hebrew University, she previously compared Zionism to German nationalism; Israel yet to comment on new coalition government, possibly waiting for US, European response.
New Austrian Chancellor Sebastian Kurz People's Party (ÖVP) has recently signed a coalition agreement with the far-right Freedom Party (FPÖ), known for its anti-Semitic and neo-Nazi roots.

So far, there has been no official Israeli response to Kurz's contentious choice of chief partners, who will take possession of the ministries of foreign affairs, defense and the interior.

Jerusalem has chosen the waiting game, to first ascertain the reactions of the United States and other European countries before it makes remarks of its own. However, it seems Prime Minister Benjamin Netanyahu's inclination is to not repeat the mistake of former Prime Minister Ehud Barak, who ordered the Israeli ambassador to Austria to return for consultations in 2000 when Jörg Haider, then FPÖ leader, entered the Vienna government.

Perhaps the most intriguing among the figures to assume ministerial posts following FPÖ's accession to the coalition is intended Minister of Foreign Affairs Karin Kneissl, who is not a member of the Freedom Party at all.


Kneissl, 52, is an expert on Middle Eastern studies who holds some controversial beliefs. In her book, My Middle East, she included a paragraph that was widely criticized by the country's Jewish community, in which she equated Zionism with Nazism.

The contentious paragraph noted that Theodor Herzl's Zionist idea was based on the German nationalistic ideal linking a people and its homeland.

The new minister of foreign affairs spent part of her childhood in Jordan as her father was a Royal Jordanian pilot. She holds a doctorate from the University of Vienna in law and Arab studies. She also studied for a time at the Amman University in Jordan and Georgetown University in the US, and even spent some time at Jerusalem's Hebrew University.

She speaks fluent Arabic as well as Hebrew, which she studied in an ulpan. She previously served as a diplomat in the Austrian Ministry of Foreign Affairs, but left after eight years. She also worked as an independent journalist specializing in the Middle East and in energy. Before assuming her ministerial post, Kneissl was a lecturer on diplomacy and military.

It could be said Kneissl's positions on the Middle East underwent several transformations. While she was highly critical of Israel in the past, the Arab Spring revolts—which she attributed to an over-abundance of hormones within young Arab males—and the refugee crisis in the region caused her to change her stance. She even expressed her support of Israel's aspiration to move foreign embassies to Jerusalem and is considered close to Russian President Vladimir Putin.

Kneissl has quite a few Israeli connections. People who know her said she was highly independent in her opinions, for better or worse, and is about to enter a ministry considered highly suspicious.

"Kneissl has an open line to Israel, and she isn't dogmatic," said an Israeli official.

In the past, she criticized German Chancellor Angela Merkel's immigration policy and attacked the immigration agreement between Turkey and the European Union.
Israel displays resistance to Strache
FPÖ leader Heinz-Christian Strache is considered pro-Israeli and visited Israel as a guest of Prime Minister Netanyahu's Likud party, many of whose officials believe he repented and distanced himself from his Nazi roots.

Strache even visited the Yad Vashem Holocaust Museum in Jerusalem and placed a wreath there. Likud party MK Yehuda Glick, who met Strache this past June, received a written commitment to move the Austrian Embassy from Ramat Gan to Jerusalem should his party win the elections.




Not all Israeli officials embraced Strache however, with senior Ministry of Foreign Affairs officials as well as President Reuven Rivlin rejecting ties with the Austrian vice chancellor-elect. Rivlin went so far as to attack Strache's invitation to visit Israel in a speech concluding Holocaust Remembrance Day at the Lohamei HaGeta'ot kibbutz in northern Israel.

"I'm sometimes taken aback by what appears to be the erosion of our national dignity and the bizarre joining with some of Europe's far-right voices. Several weeks ago, Christian Strache, the leader of an Austrian party that so brazenly calls itself the Freedom Party, visited Israel. He wasn't here on a courtesy call or as a tourist, but was officially invited by Israeli elected officials, and he unfortunately is not the only one," the president said at the time.

"Certain entities are trying to forge alliances and ties with xenophobic and anti-Semitic groups and parties that seemingly support Israel. We, the generation so close to the Holocaust, must be clear: no interest can justify a shameful alliance with those who will not accept responsibility for the crimes of the Holocaust and attempt to stifle it and whose vision wishes to reenact it against any foreigner, refugee or immigrant who dares to 'defile' their living space," Rivlin added.

"Political or national leaders who support racist, neo-Nazi or anti-Semitic views will not and cannot be welcomed guests in Israel," the president concluded.

Prime Minister Netanyahu does have an excellent rapport with Chancellor Kurz. After the latter's impressive victory in the October elections, the two spoke on the phone and Netanyahu praised Austria for "making impressive headway in the past few years in protecting the memory of the Holocaust and combating anti-Semitism."

The conversation made no mention of the Freedom Party or the possibility the far-right party will join Kurz's coalition. This, to many, provided a first indication Netanyahu has accepted the newly-minted Austrian coalition government.

Prominent members of the Austrian Jewish community as well as President of the World Jewish Congress Ron Lauder objected to Strache and his party joining the government and exerted as many efforts as they could to convince Kurz to keep him out, but to no avail.

Netanyahu, meanwhile, had two months since the elections to consolidate his position and the mere fact Israel has yet to put out an official response attests to the country wishing to avoid a confrontation with Austria at this time and prefers to wait it out.

An American response, in fact, may be forthcoming as the American Ambassador to Vienna recently met with Strache, possibly signaling impending US recognition of the new government.