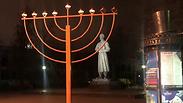 A menorah base in the Ukrainian capital of Kiev was sprayed with blood Sunday, just several days after a swastika had been scrawled on the same nine-lamp candelabrum. According to one estimate, the menorah was defaced with animal blood.

Ukraine's Jewish community filed a complaint with the local police, who launched an investigation into the incident, which likely took place at around 7 pm Sunday in the neighborhood of Podil.

Former Israeli Prime Minister Golda Meir was born in the same neighborhood, which was home to the only active synagogue during the Soviet era.

"Whoever renames streets after leaders who murdered Jews shouldn't be surprised by the targeting of a menorah and Jewish symbols today," said Ukrainian-born activist Alex Tentzer.
'Worrying rise in the level of anti-Semitism'
Meanwhile Monday, Rabbi Menachem Margolin, director of the European Jewish Association (EJA), congratulated new Austrian Chancellor Sebastian Kurz on the formation of his new government, which includes the far right Freedom Party, but stated that "Austria as an EU member poses a challenge. We cannot ignore the fear that in other countries, extreme parties will join the government based on the Austrian model without the unambiguous rejection of anti-Semitism that Austria has provided.

Blood on menorah base in Kiev

"Jewish ethics denote that a people are never rejected personally, but their behavior and actions are. For this reason, and in light of the statements made by the news government that all its members are united in condemning any expression of anti-Semitism, we congratulate the Austrian chancellor on his unprecedented achievement and his success in founding a stable government, Rabbi Margolin noted.

The Austrian conservatives' coalition deal, two months after a parliamentary election dominated by Europe's migration crisis, ends more than a decade in opposition for the Freedom Party (FPO), which last entered government in 2000 with the People's Party (OVP) that Kurz now leads.

Rabbi Margolin called on the Austrian government to "join the United States, the European Union and other countries to appoint a special government representative to initiate and coordinate government action to eradicate anti-Semitism and Xenophobia in Austria in the spirit of the anti-Semitic definitions adopted in the European Parliament in June 2017 and to clarify that freedom of religion in Austria will remain unchanged."

According to the rabbi, "In recent years, European Jewry has faced a wave of opposition to Jewish religious practices in the continent, as well as a worrying rise in the level of anti-Semitism and the popularity of extremist parties, both right and left."