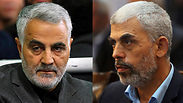 Sinwar (L) and Suleimani
Photo: AP
Hamas military leader Yahya Sinwar said Monday the commander of Iran's elite Quds Force commander, Qassem Suleimani, has promised him in a phone conversation that the Revolutionary Guards would stand by the Hamas leadership.

Sinwar stressed that Suleimani has promised to provide the Palestinian people with all the means at the IRGC's disposal in the struggle for Jerusalem.

Suleimani had contacted the military leadership of Hamas and Palestinian Islamic Jihad in recent weeks, after the destruction of the two offensive tunnels from the Gaza Strip to Israel.

Sinwar in August said his group had restored relations with Iran and is using its newfound financial and military aid from Tehran to gear up for a new round of hostilities with Israel.

"Today, the relationship with Iran is excellent, or very excellent," Sinwar said. He added that the Islamic Republic is "the largest backer financially and militarily" to Hamas' military wing.

In recent weeks, following the US recognition of Jerusalem as the capital of Israel, Hamas political leader Ismail Haniyeh called for an intifada against Israel.

Since then, there have been many clashes between Palestinians and Israeli security forces in both the West Bank and on the Gaza border, with rockets being fired from the strip indiscriminately into Israel. So far, the riots have not escalated to the full-blown intifada the Hamas leadership has hoped for.