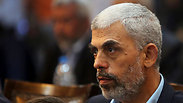 Hamas leader Yahya Sinwar
Photo: AP
Hamas' leader in the Gaza Strip Yahya Sinwar on Monday said his group has restored relations with Iran and is using its newfound financial and military aid from the country to gear up for a new round of battle with Israel.
Sinwar delivered his assessment as UN Secretary-General Antonio Guterres was visiting neighboring Israel. At a meeting with the UN chief, Israeli Prime Minister Benjamin Netanyahu complained about what he said was rising anti-Israel activity by Iran and its allies across the region.
Iran was once the top backer of Hamas, an Islamic militant group that seeks Israel's destruction. But Hamas broke with Iran in 2012 after the group refused to support Iran's close ally, Syrian President Bashar Assad, in the Syrian civil war.
During a four-hour meeting with journalists, Sinwar said those ties have been restored and are stronger than ever.
"Today, the relationship with Iran is excellent, or very excellent," Sinwar said. He added that the Islamic Republic is "the largest backer financially and militarily" to Hamas' military wing.
It was the first time that Sinwar has met reporters since he was elected in February. The 55-year-old Sinwar, who spent two decades in Israeli prison after being convicted of masterminding the abduction and killing of two Israeli soldiers, has close ties with Hamas' militant wing and takes a hard line toward Israel.
Israel and Iran are bitter enemies, and Israel has recently expressed concern that Iran and its Lebanese proxy Hezbollah are seeking a permanent military presence in Syria near the Israeli border. Both Hezbollah fighters and Iran have backed Assad's forces in the Syrian war.
In his meeting with Guterres, Netanyahu alleged Iran is building sites in Syria and Lebanon to produce "precision-guided missiles" to be used against Israel.
"Iran is busy turning Syria into a base of military entrenchment, and it wants to use Syria and Lebanon as warfronts against its declared goal to eradicate Israel," Netanyahu said. "This is something Israel cannot accept. This is something the UN should not accept."
Israel has also accused the UN peacekeeping force in Lebanon, UNIFIL, of failing to prevent Hezbollah from smuggling huge quantities of weapons into southern Lebanon in violation of a 2006 cease-fire. UNIFIL's mandate is up for renewal at the end of the month and Israel is pressing for the force to have an increased presence to better monitor and prevent the alleged Hezbollah arms buildup.
UNIFIL's commander, Maj. Gen. Michael Beary, told The Associated Press last week that he has no evidence that weapons are being illegally transferred and stockpiled in the Hezbollah-dominated south. But Guterres promised Netanyahu that he will do everything in my capacity" to ensure UNIFIL fulfills its obligations.
"I understand the security concerns of Israel and I repeat that the idea or the intention or the will to destroy the state of Israel is something totally unacceptable from my perspective," he said.
Responding to Israeli claims that the UN is biased, Guterres stressed his commitment to "treating all states equally." He said those who call for Israel's destruction peddle in a "form of modern anti-Semitism"—though he also said he doesn't always agree with the country's policies.
Guterres heads to the West Bank on Tuesday and is scheduled to visit Gaza on Wednesday. The UN maintains major operations in Gaza, running schools and health clinics and delivering humanitarian aid. Guterres is not scheduled to speak to Hamas.
Late Monday, Guterres met with Maj. Gen. Yoav Mordechai, commander of COGAT, the defense body that is responsible for Palestinian civilian affairs.
Mordechai blamed Hamas for the poor conditions in Gaza, saying the group tries to exploit civilians and aid programs. He also said Hamas' refusal to return the remains of two dead Israeli soldiers, along with two Israeli civilians it is holding, hinders Israeli efforts to assist Gaza.
"The terror organization Hamas does not hesitate at all and repeatedly exploits the Gaza residents by attempting to take advantage of Israel's assistance, despite the severe civil hardships in the strip," Mordechai said.
Guterres later met with the families of the dead soldiers and captive Israeli civilians.
In his briefing with reporters, Sinwar would not say how much aid Iran provides his group. Before the 2012 breakup, Iran provided an estimated $50 million a month to Hamas.
Hamas wrested control of Gaza from the Western-backed President Mahmoud Abbas' forces in 2007. Since then, it has fought three wars with Israel. Hamas has killed hundreds of Israelis in suicide bombings, shootings and other attacks. It is considered a terrorist group by Israel, the United States and the European Union.
Sinwar stressed that the Iranian aid is for "rebuilding and accumulating" Hamas' military powers for a larger fight against Israel that is meant to "liberate Palestine."
"Thousands of people work every day to make rockets, (dig) tunnels and train frogmen," he said. "The relationship with Iran is in this context."
But the shadowy leader said his movement does not intend to start a fourth war with Israel, instead preferring to remedy dire living conditions in the impoverished coastal enclave.
Israel and Egypt imposed a blockade on Gaza after the Hamas takeover a decade ago. Trying to pressure Hamas and regain control, Abbas has asked Israel to reduce electricity supply to Gaza, and he has slashed the salaries of thousands of his former government employees there.
The result is that Gaza suffers acute power outages of up to 16 hours a day, unemployment of nearly 50 percent and widespread poverty.
Sinwar has turned to Egypt, which has begun to ease the blockade as it seeks Hamas' help in controlling their border. The Egyptian military has been fighting an Islamic insurgency in the Sinai desert, near Gaza.
Relations with Cairo "have improved dramatically," Sinwar said. Egypt has recently sent fuel to ease the power crisis in response to Hamas' building of a buffer zone along the border.
"We will knock on all the doors, except that of the (Israeli) occupation, to resolve the problems," he said.
Sinwar was among more than 1,000 Palestinians released by Israel in 2011 in exchange for an Israeli soldier, Gilad Schalit, whom Hamas kidnapped in 2006.
Sinwar said there would be no new talks over a prisoner swap until Israel frees 54 prisoners released in the Schalit swap that have been re-arrested.
"We are ready to start negotiations through a mediator, but only when the table is cleaned. Freed prisoners must feel they are immune."