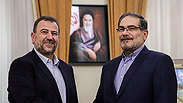 Saleh Arouri (L) and Ali Larijani
Photo: Reuters
Hamas deputy hopes Iran continues aiding their 'resistance'
While leading a delegation of senior Hamas officials to the Iranian capital of Tehran, Saleh al-Arouri admits Iran acts as Hamas's main benefactor, expresses his hope for contined aid to terror group's 'resistance' against Israeli 'occupation'; vows to never disarm.
Hamas deputy leader Saleh al-Arouri said during his visit to Tehran that the terrorist group hopes to continue to receive Iran's support in their resistance against Israel and vowed they will never disarm, rejecting Israeli preconditions for any peace talks.

"The main and primary benefactor supporting the Izz al-Din al-Qassam Brigades in developing their capabilities, whether through knowledge or assistance, is Iran," al-Arouri openly stated at a meeting with Iranian parliament speaker Ali Larijani in Tehran. "We hope this will continue until the occupation is defeated."

"Iran's support continues and has not stopped despite what has happened in our political relations with it in recent years," he added, thanking Larijani.

Al-Arouri made it clear that the internal Palestinian reconciliation agreement would not have negative repercussions on the Hamas' resistance against the Israeli "occupation."

"We will continue to resist the occupation and will not give up our arms," he reiterated. "Hamas does not recognize Israel and does not give up its right to resist. The issue of resistance and its weapons was not discussed in the reconciliation talks.

"As long as the occupation exists and expands, it is natural that we strengthen our capabilities and improve in order to deal with it. We will not agree to negotiate the weapons of resistance as long as there is occupation."

Al-Arouri is heading the Hamas delegation to Iran, which for the second time in two months has visited the Islamic Republic after years of diplomatic stagnation following former Hamas leader Khaled Mashaal's outspoken support of the resistance groups opposing the Syrian regime, who Iran labels as terrorists.

In recent weeks, senior Fatah officials, led by PA President Mahmoud Abbas, have reaffirmed that they will not accept a reconciliation agreement without full security control over the Gaza Strip.

The agreement, however, was signed without any mention of Hamas' disarmament or forfeiture of their security control over the strip.

Last week, President Donald Trump's special Mideast envoy Jason Greenblatt said if Hamas wants to play a role in any Palestinian government it must renounce violence and commit to peaceful negotiations with Israel.