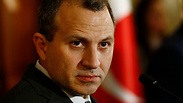 Lebanese FM Gebran Bassil
Photo: AP
Lebanese politicians on Thursday criticized Foreign Minister Gebran Bassil over a television interview in which he was shown saying that Lebanon did not have an ideological problem with Israel and was not against it having security.

"We have no ideological dispute with Israel and we are not against the existence of the State of Israel and its right to security," he was shown saying in a clip that circulated widely in Lebanon on social media.

"All nations must live in peace and recognize each other. We are a people that want to live alongside others, even if they are different from us, but it will only be when the other (Israel) wants it, and it does not want it."

The comments, made to Al Mayadeen television channel during a long interview on Tuesday, had just started attracting attention.

Lebanon has no official relations with Israel and tensions have risen this year between Israel and Lebanon's Hezbollah group. Israel and Hezbollah, the group it describes as the greatest security threat on its border, have fought wars against each other.

A former government minister called on Bassil to resign and a member of parliament also criticized him.

Bassil's office later said Al Mayadeen had distorted his comments through its editing of the interview, without explaining how.

"The choice of (Al Mayadeen showing—ed) this part is intended to undermine (Bassil's) position that Israel is an aggressive entity that runs a terror state," the foreign ministry stated.

"The Lebanese position on the Arab-Israeli conflict and the issue of Palestine is unchanging and in accordance with international law and the Arab peace initiative. Cutting (Bassil's) statement will not change the fact that for years the minister rejected the existence of an Israeli entity that rapes Palestinian rights and recognized that Israel is an enemy of Lebanon."

Israel has targeted Hezbollah positions several times this year in Syria, where the group, which is in Lebanon's coalition government, is fighting on the Syrian government's side in the civil war against rebels and Islamic State.

Hezbollah leader Sayyed Hassan Nasrallah said this month that after the group's success in Syria, where rebels are on the back foot and Islamic State has been militarily defeated, it will focus on its confrontation with Israel.

He called on allied Shi'ite militia in the region to join Hezbollah in developing a strategy against Israel.

The al-Baqer Brigade, a militia in Syria, posted a picture on its Facebook page on Dec. 26 of what it said was one of its commanders identified as Haj Hamza Abu al-Abbas visiting the Israeli border in southern Lebanon.

An Iraqi militia commander also appeared in a video recently on Lebanon's border with Israel, in what was seen in Lebanon as a demonstration of the growing clout of Hezbollah and its regional allies.