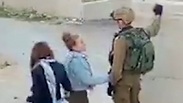 Nur Tamimi—filmed hitting a soldier during Nabi Salih protests along with her cousin Ahed Tamimi two weeks ago, was indicted Sunday afternoon for her role in the incident.

Tamimi, 21, was charged with aggravated assault of a soldier and obstructing a soldier from carrying out his duty.

The short video showed the young Tamimi women, with one of them provoking soldiers stationed in Nabi Salih, pestering them and attempting to kick and punch them, while the soldiers maintained their composure and did not respond.

Ahed Tamimi herself was arrested and charged two weeks ago.

Palestinian Authority President Mahmoud Abbas telephoned Ahed's father Bassem Tamimi last week to encourage him and inquire as to his daughter's wellbeing. Tamimi, a well-known Fatah activist, told Abbas his daughter—who was arrested when the video was published—was in good spirits, remained strong and firm in the belief of the righteousness of her ways and stood ready to "challenge the Israeli occupation."

Ahed and Nur Tamimi filmed hitting IDF soldiers who refrain from responding

Bassem Tamimi is known to be one of the organizers of the weekly Nabi Salih protests. In the video, his daughter Ahed is shown calling soldiers to leave the courtyard where they were standing when another woman arrives on the scene and tries to get between them, despite the soldiers not responding.

The incident was not the first time Tamimi was documented provoking soldiers. Several years ago, she was filmed biting a soldier who came in to arrest her brother during a weekly Nabi Salih protest. In another instance, she was shown screaming at a member of Israel's security forces during a demonstration in an attempt to push him to lose his cool.