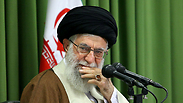 Supreme Leader Khamenei
Photo: Reuters
Khamenei accuses 'Iran's enemies' of stirring unrest
Ayatollah Khamenei offers first comments on anti-government street protests, says his country's enemies are using money, weapons, intelligence to sow discord; Syria echoes statements, blames Israel, US for destabilizing region; PM Netanyahu denied allegations.
Supreme Leader of Iran Ali Khamenei said Tuesday his country's enemies were behind the recent wave of unrest in the country, are that they were using "cash, weapons, politics and intelligence apparatus" to achieve their goal. It was Khamenei's first public statements on the matter since protests—the largest in recent memory—began.

"In recent days, enemies of Iran used different tools including cash, weapons, politics and intelligence apparatus to create troubles for the Islamic Republic," Ayatollah Ali Khamenei was quoted as saying in a post on his official website.

Khamenei added he would address the nation about recent events "when the time is right."

Iranian President Hassan Rouhani himself claimed Monday the Islamic republic's enemies were fomenting discord in the hope of toppling the regime. "Our success in the political arena against the United States and the Zionist regime was unbearable to (Iran's enemies). Iran's success in the region was unbearable to them. Don't you expect that they would seek revenge? Don't you think they would provoke some people?" Rouhani was quoted as saying in a meeting with lawmakers.

Rouhani also denounced President Donald Trump, who voiced his support for protesters numerous times, and said anyone calling the Iranians "terrorists" could not express identification with them.

Responding to Rouhani's allegation, Prime Minister Benjamin Netanyahu categorically denied Israeli involvement in the Iranian protests, saying the allegation was "not only false—it's laughable. Unlike Rouhani, I won't insult the Iranian people. They deserve better."

Iran's client state Syria threw its support with its benefactor Monday, denouncing both Israel and the US for expressing support to Iran's protesters and blamed the two countries for destabilizing the region.

The ministry said Iran's sovereignty should be respected and no one should interfere in Tehran's internal affairs. "Syria is confident that Iran's leadership, government and people will be able to defeat the conspiracy," the Syrian ministry said.

21 people have been killed in Iran since the protests began, and hundreds have been arrested. In several demonstrations, protesters called for the deaths of Rouhani and the "dictator" Khamenei.

Liad Osmo contributed to this report.