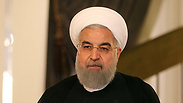 Iranian President Rouhani
Photo: AFP
Rouhani blasts Trump over wave of anti-government protests
In first public comments since wave of anti-government protests swept across Iran, President Rouhani deflects fire to President Trump, who supported protesters; Rouhani further says while Iranians had right to protest, criticize the government, their actions should not lead to violence—despite fact government forces have arrested more than 200, killed 2 protesters.
Iranian President Hassan Rouhani gave his first public reaction Sunday to four days of anti-government demonstrations. The Mehr news agency quoted Rouhani's comments, made during a cabinet meeting in which Rouhani rebuffed President Donald Trump's comments in support of the protests and said "those who called Iranians terrorists have no business sympathizing with our nation."

The United States denounced arrest of protesters over the weekend, with President Trump tweeting, "Many reports of peaceful protests by Iranian citizens fed up with regime's corruption & its squandering of the nation's wealth to fund terrorism abroad. Iranian gov't should respect their people's rights, including right to express themselves. The world is watching!"

The Iranian president further stated that while Iranians had the right to protest and criticize the government, their actions should not lead to violence or damage public property.

Rouhani's statements came after two protesters were killed and more than 200 people were arrested Saturday in Tehran during demonstrations against his regime.

Rouhani was further quoted by Mehr as telling his cabinet, "Iranians understand the sensitive situation of Iran and region and will act based on their national interests."

The Reuters news agency reported earlier Sunday the protests in Iran had sparked anew in defiance of a warning by the authorities of a tough crackdown, extending for a fourth day one of the most audacious challenges to the clerical leadership since pro-reform unrest in 2009.

Anti-government protests in Tehran University

Police in the centre of Tehran fired water cannon to try to disperse demonstrators, according to pictures on social media.

Video posted online also showed a clash between protesters and police in the city of Khoramdareh in Zanjan province in the country's northwest. Reuters was unable immediately to verify the authenticity of the footage.

There were also reports of demonstrations in the cities of Sanandaj and Kermanshah in western Iran as well as Chabahar in the southeast and Ilam and Izeh in the southwest.

An Iranian reached by telephone, who asked not to be named, said there was a heavy presence of police and security forces in the heart of the capital.

"I saw a few young men being arrested and put into police van. They don't let anyone assemble," he said.

Two demonstrators were shot dead in the western town of Dorud on Saturday night.

Anti-government protests in Mashhad

Video from earlier days posted on social media showed people chanting: "Mullahs, have some shame, leave the country alone."

Demonstrators also shouted: "Reza Shah, bless your soul." Such calls are evidence of a deep level of anger and break a taboo. The king referred to in the chant ruled Iran from 1925 to 1941 and his Pahlavi dynasty was overthrown in a revolution in 1979 by Ayatollah Ruhollah Khomeini, the Islamic Republic's first leader.

Videos posted on social media showed families gathering in front of the infamous Evin Prison in Tehran, asking for information about relatives arrested in recent days.

Tehran prosecutor Abbas Jafari Dolatabadi said some of the arrested protesters had confessed "they were carried away by emotions and set fire to mosques and public buildings" and said they would face heavy punishment.

"After giving thousands of martyrs for the Revolution, the nation will not return to dark era of Pahlavi rule," he said.

The current wave of protests was sparked by Iranians' economic situation. When Iran signed the nuclear deal in 2015, President Rouhani promised his people lifting the international sanctions levied against the Islamic republic will improve their lives, but two years have passed since and no such change occurred.

Many Iranians believe corruption and faulty governance are the reason behind the economic situation not improving.