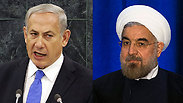 Netanyahu (L) and Rouhani
Photo: AP
Netanyahu wishes success to Iran protesters, denies Israeli involvement
PM Netanyahu mocks Iranian President Rouhani over allegations that Israel is behind recent protests, wishing the Iranian 'people success in their noble quest for freedom.' Meanwhile, Iranian state television reports first casualty among Iran's police force in renewed clashes with protesters.
Israeli Prime Minister Benjamin Netanyahu praised Iranian anti-government protesters on Monday, while denying as "laughable" Tehran's apparent accusations that Israel was behind the demonstrations.

Five days of protests in Iran have posed the boldest challenge to its clerical leadership since pro-reform unrest in 2009. At least 12 people have been reported killed as some confrontations with police turned violent.

"I wish the Iranian people success in their noble quest for freedom," Netanyahu said in a video posted on his Facebook page.

"Brave Iranians are pouring into the streets. They seek freedom. They seek justice. They seek the basic liberties that have been denied them for decades. Iran's cruel regime wastes tens of billions of dollars spreading hate," he said in remarks that echoed similar praise from U.S. President Donald Trump.

Netanyahu slams Rouhani, compliments Iranian people (צילום: לע""מ)

On Monday, Iranian President Hassan Rouhani was quoted by state media as apparently blaming Iran's arch enemies, the United States and Israel, for provoking unrest.

"Our success in the political arena against the United States and the Zionist regime was unbearable to (Iran's enemies). Iran's success in the region was unbearable to them. Don't you expect that they would seek revenge? Don't you think they would provoke some people?" Rouhani was quoted as saying in a meeting with lawmakers.

Netanyahu said Rouhani's suggestion that Israel was involved was "not only false—it's laughable".

Netanyahu added that more Western countries should condemn Tehran for trying to put down the protests.

"Sadly many European governments watch in silence as young heroic Iranians are beaten in the streets. That's just not right. And I, for one, will not stay silent," he said.

Riots break out in Iran

Following Rouhani's accusation, fresh protests broke out as night fell with reports of a policeman shot dead.

State television said one policeman had been killed and three others wounded by fire from hunting rifles in the city of Najafabad in central Iran.

There was a heavy police presence in Tehran as small groups of protesters ran through the city centre shouting anti-regime slogans, local agencies reported.

The latest demonstrations came despite President Hassan Rouhani's vow that the nation would deal with "rioters and lawbreakers".