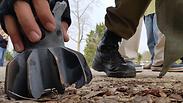 Rocket that fell in Israeli community
Photo: Roee Idan
The IDF has completed its investigation into the rocket fire from the Gaza Strip to Israel on Friday, determining the Palestinian Islamic Jihad was likely behind the launches.

The investigation found the Iranian-made mortar shells were identical to projectiles launched at an IDF post on the northern Gaza border by Islamic Jihad on November 30.

Two of the rockets fired on Friday were intercepted by the Iron Dome missile-defense system, while the third fell inside an Israeli community in the northern Gaza border area, causing damage to a structure. No one was hurt.

Islamic Jihad, which is funded by Iran, is believed to have fired the rockets as retribution for the demolition of one of its cross-border tunnels by the IDF some two months ago.

IDF officials said the unusual volley—launched during the day and likely specifically targeting a ceremony for fallen IDF soldier Oron Shaul, whose body is being held by Hamas—indicates Hamas's lack of control over Islamic Jihad, the second-largest faction in the strip.