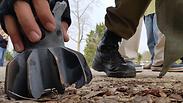 A rocket fragment
Photo: Roee Idan
Gaza rockets fired during ceremony for slain soldier, IDF retaliates
Code Red alarm sounds in Gaza border communities; rocket hits structure in Sha'ar HaNegev Regional Council shortly thereafter, no casualties reported; 2 additional rockets intercepted by Iron Dome system; IDF retaliates by attacking Hamas positions in northern Gaza.
A rocket launched from the Gaza Strip at Israel during a ceremony for IDF soldier Oron Shaul hit a structure in the Sha'ar HaNegev Regional Council, while the Iron Dome system intercepted two other rockets.

The launches were preceded by a Code Red alarm, heard in several towns near the Gaza border at 11:49am.

The IDF attacked two Hamas positions in the northern Gaza Strip using tanks and fighter jets. Sources in Gaza also reported tank fire was heard across the Gaza border immediately after the alarms. Hamas said no one was hurt on the Palestinian side.

Footage of the alarm and explosions at Oron Shaul's ceremony (צילום: רועי עידן)

The IDF Spokesperson's Unit said the incident was still being investigated, and that searches of the area are underway to locate the precise location of the hit as well as possible rocket fragments.

The Code Red alarms were sounded during a ceremony held in Kfar Aza marking the would-be 24th birthday of soldier Oron Shaul, whose body has been held by Hamas in Gaza since Operation Protective Edge.

Some of the ceremony's attendees laid down on the ground as soon as the alarms went off and explosions heard. Others, including Oron's mother Zehava Shaul, ran for the nearest shelter.

"It's an unpleasant and frightening experience," Shaul's mother, Zehava Shaul, told Ynet. "The most important thing is that no one was hurt."

The IDF said it was also examining whether the rockets were specifically targeting the ceremony, which was advertised in advance, with the rocket barrage aimed at its general direction.

Zionist Union leader Avi Gabbay was among the ceremony's attendees. "The rocket fire in the middle of the ceremony proves, more than a thousand witnesses, that deterrence has been lost," Gabbay said.

"They knew there was a ceremony happening here, and they fired. It's intolerable. I hope our government responds properly," he added.

Other prominent figures who attended the ceremony include Communications Minister Ayoob Kara (Likud), MK Oren Hazan (Likud), Golani Brigade Commander Shlomi Binder, and Maj. Gen. (res) Hagai Topolanski, the former head of the IDF's Manpower Directorate.

MK Haim Jelin, the former head of the Eshkol Regional Council, was also at the ceremony. "We've been living this life for 17 years. For every rocket like that we keep building another home here and keep growing," he said. "We won't let them win. We'll keep living our regular lives here as if there are no rockets. The IDF and Defense Ministry's job is to hit at terrorism so there will be no rockets."

Before the incident, the soldier's mother said at the ceremony, "We're here to mark his birthday. We've decided to come here so we can be as close to Oron as possible. Our message is one of peace, brotherhood and camaraderie. We're not here to lash out at anyone. We just want Oron returned home."

While the ceremony was held, families of Palestinian Gazan prisoners incarcerated in Israel held a protest rally opposite the border fence in which they called for their sons to be released, carrying signs in Hebrew saying, "Your captive sons should be freed, but so should ours."

A rocket fired from Gaza two weeks ago exploded in the Hof Ashkelon Regional Council, hitting a home in one of the council's communities and damaging a residence and a vehicle. An additional rocket landed in open land in a nearby community.

US President Donald Trump's recognition of Jerusalem as Israel's capital led to almost daily rocket launches for Israelis residing around Gaza.

Coordinator of Government Activities in the Territories (COGAT) Maj.-Gen. Yoav Mordechai wrote on COGAT's Arabic-language Facebook page, "Gaza's terrorists have unequivocally proven what we have been saying time and again: they are demolishing the future of Gaza's residents with their own hands."