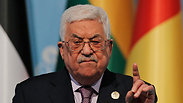 Palestinian President Abbas
Photo: AP
Palestinians seek to become full UN member state
In latest diplomatic tit-for-tat, Palestinians plan to turn to Security Council to upgrade status at the United Nations; they will have a hard time mustering majority, however, with more pro-Israel nations at the Council, while the US is expected to veto such a move regardless.
The Palestinians are planning to ask the UN Security Council to upgrade their status from a non-member observer state to a full member state with voting rights at the United Nations.

The Palestinian move is the latest in a diplomatic war that was sparked by US President Donald Trump's recognition of Jerusalem as Israel's capital, escalated when the Palestinians pushed for the adoption of a UN General Assembly resolution rejecting the American declaration, and recently culminated in US threats to cut funding for the Palestinian Authority and the UN Relief and Works Agency for Palestine Refugees (UNRWA).

While the latest Palestinian move is the most extreme to date, it is expected to be mostly declarative and symbolic in nature, as Washington is expected to veto it.

To be accepted as a UN member state, the Palestinians would need a majority of nine out of the 15 member states at the Security Council. Meanwhile, each of the five permanent members—US, Russia, China, Britain and France—has a veto right.

Regardless, the Palestinians will have a hard time mustering up the required majority—both because their move is unilateral in nature, and because the makeup of the Security Council changed on January 1 in Israel's favor, with the addition of Poland, Ivory Coast and Equatorial Guinea, all of whom are likely to oppose the Palestinian request.

On the other hand, Kuwait also joined the Security Council this year, and it is expected to support the Palestinian request.

Israel's Ambassador to the UN Danny Danon slammed the Palestinian move, saying, "The Palestinians are failing to understand reality. After years in which they've ignored Israel and promoted unilateral moves, they are making the mistake of thinking they could ignore the US and determine facts on the ground by bypassing (Israel). The rules haven't changed, and the only way to achieve progress is by abandoning terrorism and incitement and holding direct talks with Israel."