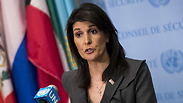 Amb. Nikki Haley
Photo: AFP
US weighs halting funding to UNRWA until Palestinians talk peace with Israel
Days after US announces plans to cut $285 million from funds it provides to the United Nations 2018-2019 budget after General Assembly votes against Trump's Jerusalem declaration, Ambassador Nikki Haley relays message that he plans to pull plug on agency that assists Palestinians 'until they come back to the negotiating table.'
The Trump administration is considering cutting funds to the United Nations Relief and Works Agency which dedicates vast resources toward tending to issues involving Palestinian refugees unless the Palestinians "return to the negotiating table," the US ambassador to the UN announced on Tuesday.

Speaking at a United Nations press conference, Nikki Haley relayed the message that President Trump wants to pull the plug on funding for the agency unless Palestinians sit down and discuss peace with Israel.

Ambassador Nikki Haley (צילום: רויטרס)

"The president has basically said that he doesn't want to give any additional funding ... or stop funding, until the Palestinians are agreeing to come back to the negotiating table," Haley said.

"And what we saw with the resolution was not helpful to the situation. We're trying to move for a peace process, but if that doesn't happen, the president's not going to continue to fund that situation."

The announcement comes just a few days after the US announced that it is planning to cut $285 million from funds it provides to the United Nations 2018-2019 budget, implementing a threat made by Trump that financial repercussions would follow if the body's General Assembly voted in favor of a resolution demanding that Washington retract its decision to recognize Jerusalem as Israel's capital.

The US is the largest financial contributor to UNRWA, pumping into its coffers each year $200 million. In 2016, the US gave it $368,429,712.

With Trump's entrance into the White House, many on the Right in Israel hoped he would decide to starve the agency of its main financial source, with critics arguing that it perpetuates the Palestinian refugee problem by grossly inflating the number on bonafide refugees.

The agency includes descendants of Palestinian refugees from the 1948 War of Independence, thereby granting refugee status to Palestinians according to a criteria that is not adhered to in any other refugee question.

In addition, Israel has lamented the fact that UNRWA-run educational institutions have in the past allowed incitement against Israel and that their schools have served as launchpads in Gaza for rockets fired at the country.

In July last year, for example, the agency said it was investigating after finding 20 rockets hidden in one of its vacant schools in the Gaza Strip.

In June, UNRWA said it had protested over the finding of a Hamas terror tunnel, which in a 2014 war had used a network of cross-border tunnels to launch attacks inside Israel.

Last October, UNRWA discovered a Hamas attack tunnel underneath one of its schools in Gaza.