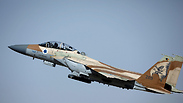 On Saturday night, Israeli Air Force planes attacked a terrorist target in southern Rafah near the Gaza-Egypt border.

According to the Palestinians, the target was a smuggling tunnel on the border of the strip.

"The Hamas terrorist organization is responsible for everything happening in and out of the Gaza Strip," the IDF spokesman said, commenting on the attack.

The attack was in the area between Rafah and Kerem Shalom border crossings. Several terror tunnels have been dug and consequently blown up by the IDF, some of them even notorious for aiding in the abduction of Gilad Shalit to the tunnel that caused the launching of Operation Protective Edge.

Earlier, it was reported that the Kerem Shalom crossing will not open Sunday following an IDF situation assessment. The defense establishment has not yet provided further details on the reason for the closure of the crossing.

The Coordinator of Government Activities in the Territories, Maj.-Gen. Yoav (Poli) Mordechai, briefed the Palestinian Authority on the matter.

The decision is unusual because rockets have not been launched into Israel in recent days, and the scope of protests and riots on the Gaza border has also been diminishing.

It was only two days ago when Mordechai called the Gaza Strip "a failing territory," blaming the harsh leaving conditions there on Hamas' mismanagement and reliance on smuggling through illegal underground tunnels.

"This is mainly a problem for Hamas and the Palestinian Authority, but the State of Israel is very much affected by this," he said at the time. "If Hamas demilitarizes, abandons its tunnels and arms smuggling, and reaches a compromise on the issue of POWs and MIAs, Gaza could be turned into a very large economic opportunity.

"It is possible to invest there in infrastructure and make it very successful. A failed economy can create terror and war. A stable economy can postpone and not require a war and confrontation, and this is another component of the IDF's concept of security."

On Friday, at the Gaza-Egypt border, a fisherman from the Gaza Strip was shot dead by the Egyptian army overnight for unclear reasons.

Medical sources in Gaza said that Abdullah Zeidan, 33, from the Shati refugee camp, was shot in the chest by Egyptian forces near the naval border with Egypt in the south of the coastal enclave.

He was taken to hospital but died early Saturday morning.

Gaza's interior ministry said an initial investigation indicated "the Palestinian fishing boat did not cross the Egyptian (maritime) border" and remained in the Palestinian waters of the town of Rafah.

"We call on the Egyptian authorities to open an urgent investigation into this incident," spokesman Iyad al-Bozum said in a statement.

Egyptian officials have yet to comment.