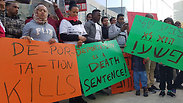 The African migrants' protest
Photo: Ido Erez
2,000 African migrants protest outside Rwandan embassy
Thousands of asylum seekers, Israelis protest Israel's intent to forcefully deport migrants outside Rwandan embassy; 'We don't want to be sold off as slaves,' says one migrant; several El Al pilots sign petition refusing to fly migrants against their will; 'I cannot take part in flying refugees to a destination where their chances of survival are nil,' says one pilot; El Al denies such a request was made.
Some 2,000 asylum seekers from Eritrea and Sudan demonstrated Monday opposite the Rwandan Embassy in Herzliya Pituach in protest of the agreement signed between Israel and the Rwandan government to deport migrants to the east African nation.

Protesters, arriving mostly from south Tel Aviv and the Negev's Holot migrant detention center, chanted, "We will not despair, we will stop deportation", "Not buying into the racists' plan", "Recognizing refugees is a moral obligation" and "Deportation equals death."

The migrants' protest in Herzliya (צילום: אמיר אלון)

Many of the protesters congregated in a public garden in the Levinsky neighborhood, situated in south Tel Aviv, before leaving for Herzliya. During their meeting, an Eritrean asylum seeker named Emmanuel spoke and called on Israelis to stand shoulder to shoulder with migrants—not at the expense of south Tel Aviv residents, but alongside them.

"Come what may, we'll here to stay," he said. "Whether it's in Saharonim prison, we're ready. Whether it's Holot, we're ready. We stand here and say to anyone who's here supporting us: we, alongside you, will change the situation in south Tel Aviv."

"We're aware of the great distress. I turn now to call on the residents of south Tel Aviv neighborhoods to come here, stand with us, lift up your arms and say that you're with the migrants in wanting to change the situation in south Tel Aviv," he added.

Johnny Kapo, a 30-year-old asylum seeker from Eritrea, took to the podium at the Herzliya protest and said, "We're neither from Uganda nor from Rwanda. We're Eritrean. We came to Israel to seek asylum here. We will not consent to deportation and do not wish to be sold off like slaves. We're refugees, but not by our choosing. We've been here for a decade and no one has inspected our requests for asylum."

Fanta Preda, an Israeli who attended the protest to show solidarity, said, "These poor people are asking (us) to save their lives. I have friends who are asylum seekers. They're just like you and I—they only want to live their lives and fit in, but the government wants to kill them."

"Rwanda is a poor excuse for asylum," she added. "We should all see the good in (the immigrants)."

Eritrean asylum seeker Kabraham Tawalda said, "We are a people in distress. Helpless and denied of status. If we didn't need protection, we wouldn't have chosen to live without our mother's warm embrace, without the thing dearest to us—our children."

"The murderous dictatorial regime in our country has compelled us to flee. I am at a loss for words to describe the amount of agony caused to the Eritrean people. That is the reason we have dispersed the world over," he explained.

"We have met some bad people along the way—murderers and rapists—and we have suffered torture. We arrived here and found the Israeli people were kindhearted. The Israeli government, however, is not on our side. It's racist and wishes to sell us off for 5,000 dollars like we're trash—and only because we're black," Tawalda protested.

Protesters also blamed Rwandan President Paul Kagame of signing the agreement with Israel to take in refugees out of sheer greed and the arms his country will receive in recompense.

Rwanda will be getting $5,000 for every asylum seeker it receives, as per the agreement. The Rwandan government issued a statement disavowing the agreement's existence.

South Tel Aviv resident and one of the leaders of the anti-migrant protest movement Sheffi Paz also arrived to the demonstration. "I follow them everywhere to uncover their lies," she explained. "Rwanda is a safe country. After two years of deliberating, the High Court ruled they could be deported there. It's time to free south Tel Aviv."

Despite the protest, police actions against asylum seekers have carried on, in tandem with the Population and Immigration Authority. One such operation was carried out later Sunday in Ashdod, leading to the detention of 96 migrants found in 12 businesses and parks. Four were arrested on suspicion of using forged visas.
El Al pilots object to flying deportees on moral grounds
With the migrants' deportation seemingly going forward, several El Al pilots have declared over the past few days they will not consent to flying the asylum seekers to a third country, claiming they will not be able to survive there—making the pilots themselves responsible for their fate or even deaths, they claimed.

"In such a mission I will not be able to perform as expected of me, both as a pilot and as a human being," wrote one of the Israeli national air carrier's jumbo jet pilots.

El Al, however, clarified no such demands were made of it as yet.

The pilots' objections came following an initiative by asylum seekers seeking to harness more El Al pilots' support for a far-reaching move, which will make it technically difficult for Israel to fly out Sudanese and Eritrean nationals to Rwanda or Uganda.

Shaul Betzer, first officer in El Al's jumbo fleet, wrote, "As a member of the Jewish people, who was raised on the values of Zionism, has lived here his entire life and has taken part in operations behind enemy lines that required courage and conviction, I cannot take part in flying refugees to a destination where their chances of survival are nil."

"A mission like that does not require a great deal of courage, but it is precisely the type of mission in which I cannot carry out my duties. Both as a pilot and as a human being," he added.

Another pilot added, "True, the State of Israel needs clearly demarcated, sealed borders—denied us 'thanks' to the occupation, settlers and successive Israeli governments—as well as a controlled immigration policy.

"But refugees who are already living in our midst cannot be discarded like stray dogs, back to their countries, where suffering, rape of women and children and excruciating death await them.

"Let the refugees remain here and be handled—as human beings. Just like the Jews who were refugees and wanted someone to care for them. I will not be flying expelled refugees against their will, if only because they may endanger the flight's safety," he concluded.

Not all pilots, however, shared the opinion of those objecting to flying immigrants. One of them, a senior El Al captain, said in a closed aircrew forum that, "As a son of a Holocaust survivor, a refugee who arrived penniless to Israel after her entire family perished, the comparison to immigrants currently living in Israel is historically inaccurate, to put it mildly, and outrageous."

The same captain contacted one of the pilots spearheading the refusal move and told him, "You flew a considerable number of deportees—as I did—arriving to your plane with police accompaniment. Did you ever demand to see a verdict? Never, because that's not your role as pilot.

"The country's legal authorities decide which migrants are refugees and will be allowed to stay and which are illegal immigrants who will leave, willingly or otherwise."

El Al did claim that, "The company has not been demanded to fly refugees. They fly out using Turkish Airlines or Royal Jordanian."

Meanwhile, undeterred, more than 7,500 people have signed an online petition calling on pilots to refuse to cooperate with deportation. "Pilots in Europe have refused to fly refugees to their deaths and prevented hundreds of deportations—we can do the same here!" the petition said.

"In the past few months, German pilots have been successful in preventing more than 200 deportations, using the argument that ferrying asylum seekers against their will constituted a danger to the flight's security. People are rallying against these cruel deportation edicts the world over, let's do the same here. What we do now will chart the course of tens of thousands of people—call on air and ground crews to say no to deportation," the petition elucidated.