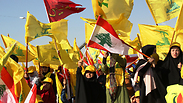 Hezbollah procession in Lebanon
Photo: EPA
A new red line: IDF deterrence efforts reach Lebanon's citizens
Analysis: The IDF spokesperson's warning against Iranian entrenchment in Lebanon, in an op-ed published in Lebanese and Arab websites, is the first time the Israeli army appeals directly and officially to Lebanese citizens. What made Brig. Gen. Ronen Manelis make such an unusual, dramatic move at this time?
IDF Spokesperson Brigadier-General Ronen Manelis's op-ed, which was published Sunday morning in Lebanese and Arab websites, is a conscious and dramatic move. I can't remember a similar act taking place in the past 50 years.

In fact, it's the first time that the IDF appeals directly and officially to all of Lebanon's citizens, urging them to come to their senses and stop Iran and Hezbollah from turning Lebanon and its citizens into hostages, while fatal decisions about their lives and welfare are being made in Tehran according to the ayatollah regime's interests.

"These violations don't threaten us," Manelis wrote. "On the contrary, the difference between a violation that ends in a report to the UN and a violation that will lead to a security deterioration is, first and foremost, subject to an Israeli decision." These words come as a sort of red line set by Israel, as it directly warns Lebanon of an Israeli attack.

Manelis appears to be appealing to Lebanon's citizens over the heads of their prime minister and president, who are controlled by Hezbollah, in an unconventional way aimed at making it clear to them that they might suffer a disaster if they fail to come to their senses and work to stop the Iranian takeover of the Lebanese regime and Iran's physical entrenchment in Lebanon.

He points to the fact that Iran is basically disregarding Lebanon's sovereignty and gradually turning the country into a branch of the Revolutionary Guards, the Iraqi-Shiite militias operating at Iran's service and the Iranian military industry.

As Lebanon's residents seem undeterred by the disaster that the Iranians and their emissaries could inflict on them and on their country in case of a conflict with Israel, the IDF spokesperson is informing his Arab readers of the Israeli army's growing strength in the past few years, to help them draw their own conclusions on what could happen to them. He is reminding the Lebanese that their situation today is relatively good compared to what could happen if a war breaks out.

The main purpose of the op-ed was to urge the Sunni and Christian opposition to take action, after Hezbollah managed to subdue even Saad Hariri, Lebanon's Sunni prime minister, following the failed Saudi attempt to get Hariri to curb Hezbollah's takeover of the Lebanese government and political system.

Between the lines, the IDF spokesperson's op-ed contains a sense of urgency that wasn't present in previous messages from military and diplomatic Israeli sources that were directed at Lebanese ears.

Chief of Staff Lt. Gen. Gadi Eisenkot conveyed a warning to Lebanon years ago, when he worded what was later known as "the Dahiya doctrine" in an interview to Yedioth Ahronoth. The essence of this doctrine is that the next time a wide-scale conflict erupts with Hezbollah, Israel would act in a destructive, "disproportional" manner, and the result would be similar to the Air Force bombing that razed the Dahiya quarter—which had served as a Hezbollah military center in Beirut—during the Second Lebanon War.

But this message, like other public and secret messages Israel has conveyed to Lebanon in recent years, wasn't as detailed and wasn't directly aimed at reaching the common Lebanese citizen.

What led the IDF spokesperson to make such an unusual move at this time? One possibility is that the IDF detected willingness to receive Israeli messages in the Lebanese civilian arena and seized the opportunity in a creative manner. Another possibility is that the successful website of the Coordinator of Government Activities in the Territories (COGAT), through which Maj. Gen. Yoav Mordechai has been speaking directly to Palestinians in Gaza and in the West Bank, led the army to the conclusion that a direct appeal to Lebanese citizens—both Shiites and non-Shiites—through the Internet and social media could prove to be as successful.

A third possibility is that the Israeli intelligence may have detected a significant negative development in Lebanon, increasing the threat to Israel and the possibility of an escalation with Lebanon. There may have been a need for a move that would draw the attention of Lebanon's citizens, of Israel's citizens, of the world powers, of the Arab regimes in the region and of the global public opinion to the possibility of an imminent escalation and its results.

There are additional signs that Israel has been taking unusual deterrence and warning measures recently, although this time it may also be aimed at serving as media background for Prime Minister Benjamin Netanyahu's meeting Monday with Russian President Vladimir Putin on Iran. Russia has a strong interest in preventing an escalation in Syria and Lebanon at this time. An escalation in the northern arena could directly affect Moscow's ability to implement the achievements it has recorded in Syria and in the Middle East in general in the past few years.