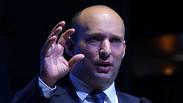 Education Minister Bennett
Photo: Motti Kimchi
Bennett pushes for approach directly confronting Iran
Security Cabinet member Bennett speaks on possibility of further conflagration in north, calls to operate directly against Iran rather than settling for merely going after Hezbollah; 'We're entrapped by a strategy saying we should only fight the messenger, not who sent it,' Bennett says, likening Iran to the head of the octopus; Defense Minister Lieberman says chief of staff replacement likely to be selected by Rosh Hashanah.
Security Cabinet member Naftali Bennett stressed Wednesday that direct action against Iran, and not just Hezbollah, was necessary in the next conflagration of hostilities in the north. Bennett also directed veiled criticism at Israel's conduct vis-à-vis Iran, which he dubbed the octopus's head.

Speaking at the Institute for National Security Studies' (INSS) 11th Annual International Conference, Bennett, who's also the education minister, said, "Our tactics have improved, but we remain hemmed in by a narrow strategy that says we should only shoot the messenger, who's shooting at us."

The Bayit Yehudi chief then called to change track in the manner Iran and its proxies are tackled, as well as to shift strategy in the eventuality of another northern conflict.



Outlining his position, Bennett said the fight needed to be taken directly to Iran, rather than delimiting it to just Hezbollah. "The head of the octopus resides in Tehran and stretches its arms—one is Hezbollah in Lebanon, the other Hamas in Gaza. Now it tries to send a third arm into Syria. We won't allow that," he stated.

"We have thus far only dealt with the messenger—Hezbollah—and kept off of the sender, which is Iran," he continued.

Bennett then reminded listeners that he had promoted a strategy dubbed "Hezbollah equals Lebanon" four years ago, revolving around laying blame for conflict at the host country's feet. "However," Bennett said, "to this day that strategy has never been formally approved. We will not limit ourselves to only going after Hezbollah next time."

The education minister also sent a veiled barb at Israel's conduct regarding Iran. "So long as the octopus in invulnerable, it will carry on and—in the long run—will have the upper hand," he cautioned.

"We need to undertake a deep, transformative change in our perception, which will be brought to bear by political actions leading to building our military might, creating regional alliances and of course changing our policy on channeling our strength," he added.

Following Bennett's comments, Defense Minister Avigdor Lieberman sat down to converse with the head of the INSS, Maj.-Gen. (ret.) Amos Yadlin. On the next round of hostilities, Lieberman said, "As far as the enemy is concerned, its main goal is the civilian home front. My message to the public is not to get too worked up. We're done with a 'one step forward, two steps back' kind of war.

"You have to go in at full power right from the get go. You can't have photos like ones seen during the Second Lebanon War showing the people of Beirut sunning at the beach while the people of Tel Aviv are in shelters. That won't happen. If people in Tel Aviv will be in shelters, all of Beirut will be in shelters," Lieberman vowed.

The defense minister also addressed finding a replacement for IDF Chief of Staff Gadi Eisenkot, who's expected to step down in the near future.

"We'll have to make a decision by Rosh Hashanah, by my reckoning, but my job is merely to propose and it's the government's job to pick. We have gotten into hot water in the past over the chief of staff's nomination, so we're better off without it. There are several candidates and it's quite the deliberation. Luckily, there are several qualified candidates," Lieberman said.

Earlier Wednesday, Acting Assistant Secretary of State in the Bureau of Near Eastern Affairs David Satterfield voiced US support on Israel's warning against Iranian missile factories in Lebanon.

"We're concerned by Iran's desire to disseminate balance-breaking missile technologies to its proxies in the region—the armed militias," Satterfield said, also touching on the recent escalation in the Yemen conflict and the firing of precise missiles from the war-torn country at the Saudi capital of Riyadh.

"We're disinterested in seeing further dissemination of this advanced systems technology anywhere else—not to Yemen and certainly not to Hezbollah. It's very worrying and both the US and our allies are highly proactive on the issue.

"We're now sending a clear message to Iran, that this cannot go on and that there will be no impunity for such behavior."