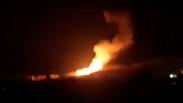 The IDF attacked a Hamas observation post in the northern Gaza early Friday morning in retaliation to last night's rocket fire from the strip.

The IDF Spokesperson's Unit once again reiterated that "the IDF considers the Hamas terrorist organization solely responsible for what is happening in the Gaza Strip."

No alarm sounded Thursday night as a rocket was launched from the Strip towards Israeli territory. The launch, which occurred at around 23:30, caused no casualties or damage.

Security forces are searching the area to determine whether the rocket landed in Israel or failed to cross the northern Gaza border and crashed within the strip.

IAF attacks Hamas post in response to rocket fire (צילום: רפאל חיון)

On the night between Monday and Tuesday, at exactly midnight, a red alert sounded in the Sha'ar HaNegev and Sdot Negev regional councils.

Explosions were heard in the area and after a rapid investigation, the IDF confirmed that a rocket had fallen inside an open field in within Israeli territory. No injuries or damages were reported in the incident.

The last attack from Gaza took place at the beginning of January when three mortar shells were fired at Israeli territory within a few hours at the Eshkol Regional Council, all of which landing in open, uninhabited fields. No one was injured and no damages were inflicted in the attack.

In every such incident, the IDF never fails to respond in kind by bombing a Hamas post in the strip.