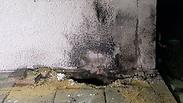 Archive photo
Photo: Roee Idan
Three mortar shells fired at Eshkol as sirens fail to blare
Three mortar shells launched from Gaza Strip in quick succession, with the last landing in open field in Eshkol Regional Council; no injuries reported, but local residents given no warning as sirens remain silent in both cases; 17-year-old Palestinian reportedly shot dead by IDF for carrying a gun during clashes.
Three mortar shells were fired from the Gaza Strip at the Eshkol Regional Council on Wednesday afternoon just hours apart, all of which landing in open, uninhabited fields. No injuries or damage were reported.

The first mortar fell close to the Gaza border fence at around 2pm inside Israeli territory. Approximately one-and-a-half hours later, the IDF identified yet another mortar landing in the same area.

At around 5:30pm, another launch was identified, with residents of the regional council reporting a loud explosion nearby shortly after.

In all three cases, the Code Red siren was not sounded.

The IDF Spokesman reported that no explosions were heard following the first two falls, and after finding no shrapnel in Israeli territory the army now suspects they fell within Gaza borders.

Prime Minister Benjamin Netanyahu was scheduled to visit the Gaza region on Wednesday and participate in a ceremony marking the conclusion of a infrastructural restoration project. But two days ago, the visit was canceled for reasons that were not made clear.

The latest mortar attacks mark a continuation of a steady bombardment that has haunted Israel's southern residents in recent weeks, and which have each time prompted the IDF to launch retaliatory strikes on Hamas positions.

Israel holds Hamas, the ruling power of the Gaza Strip, responsible for any aggression emanating from the enclave.

In a similar incident on Tuesday, a rocket was fired from the Gaza Strip and exploded in open space near a community in the Eshkol Regional Council, catching nearby residents by surprise as no alarm was sounded to warn them ahead of time.

Israel Air Force aircrafts attacked a Hamas military compound in the southern Gaza Strip in retaliation.

On Friday, a rocket launched from the Gaza Strip at Israel during a ceremony for IDF soldier Oron Shaul hit a structure in the Sha'ar HaNegev Regional Council, while the Iron Dome system intercepted two other rockets.

Following an investigation, the IDF determined that the Palestinian Islamic Jihad was likely behind the launches.

In an unrelated incident, a Palestinian hospital official said a teenage boy was killed in clashes with the Israeli army, which says troops fired at an armed protester.

Fathi Abu Mughli, director of Istishari Hospital, said Musab Tamemi, 17, was shot in the neck. Residents of the village of Dir Nizam, near the West Bank city of Ramallah, said protesters were clashing with Israeli forces.

Israel's military said soldiers opened fire at a protester with a gun during clashes. It says it is reviewing the incident.