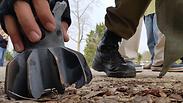 Archive photo
Photo: Roee Idan
A Code Red sirens was sounded at midnight Monday evening in the Sdot Negev and Sha'ar Hanegev Regional Councils after a rocket was fired into Israeli territory.

Explosions were heard in the area and after a rapid investigation, the IDF confirmed that a rocket had fallen inside open space in Israeli territory. No injuries or damages were reported in the incident.

The last attack from Gaza took place at the beginning of January when three mortar shells were fired at Israeli territory within a few hours at the Eshkol Regional Council, all of which landing in open, uninhabited fields. No one was injured and no damages were inflicted in the attack.

The first mortar fell close to the Gaza border fence at around 2pm inside Israeli territory. Approximately one-and-a-half hours later, the IDF identified yet another mortar landing in the same area.

The following day, Israeli Air Force planes attacked terror infrastructure in the Gaza Strip in retaliation for the three mortar shells.

"The IDF will continue using all measures at its disposal above and under ground to thwart attempts to hurt Israeli citizens. We are prepared and ready for a variety of scenarios, and we will act against any attempt to violate Israeli sovereignty," the IDF Spokesman's Office said.