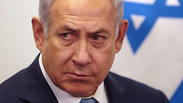 Prime Minister Benjamin Netanyahu
Photo: MCT
Netanyahu slams police chief's 'delusional, false insinuations'
Ahead of the expected recommendation to charge him with bribery, the prime minister launches an unprecedented attack on the police commissioner, after Alsheikh says 'powerful' elements involved in Netanyahu investigations tried to collect information about police officers.
Prime Minister Benjamin Netanyahu on Wednesday night launched an unprecedented attack on Police Commissioner Roni Alsheikh, after the police chief accused "powerful" elements involved in the investigations against the prime minister of trying to collect information about police officers.

"It's shocking to discover that the police commissioner is repeating the delusional and false insinuation that the prime minister sent private investigators against police officers who are investigating him," Netanyahu wrote in a post published on his Facebook page.

The prime minister's harsh attack came ahead of the expected publication of the police's recommendation to file bribery charges against Netanyahu, and shortly after Alsheikh gave an interview to investigative television program "Uvda."

"It's shocking to discover that in a conversation with journalists, the police commissioner repeated the delusional and false insinuation of (Inspector Roni) Rittman, that the prime minister was involved in a female police officer's sexual harassment complaint against Ritman," Netanyahu wrote.

"How is it possible that Rittman heads the unit investigating the prime minister and is personally involved in forming the recommendations against him," Netanyahu asked, referring to Inspector Roni Rittman who was forced to quit his post as commander of the Lahav 443 unit, a crime-fighting umbrella organization within the Israel Police.

"Every decent person should ask himself how people who say such delusional things about the prime minister are capable of objectively investigating him and making an unbiased recommendation about him? A major shadow has been cast on the police investigations and recommendations concerning Prime Minister Netanyahu."

According to Netanyahu, who launched the attack shortly after Alsheikh met with his organization's top brass for a decisive meeting on the investigations against the prime minister, "The police chief's insinuations are so serious, that they call for a quick objective investigation into the claim that the prime minister sent investigators. And after it is made clear that there is no such connection, the proper conclusions must be drawn regarding the way the investigation is being conducted and the way the recommendations are being formed against the prime minister."
'We won't be influenced by criticism'
A senior law enforcement official said in response to the prime minister's attack Thursday morning, "At the end of the day, the only thing that matters is the evidence in the case files and not all the background noises."
According to the high-ranking source, "The response to the police commissioner's comment was expected. Such interviews usually create a buzz and reactions. We didn't expect anything else. But if anyone thinks it will influence us in any way, they're wrong. Luckily, the investigation is very organized and when everything is made clear and published, you'll know what we're talking about."
Sources in the police said Commissioner Alsheikh had taken into account the timing of his interview to "Uvda" and its ramifications. Nevertheless, he decided to go ahead with the interview as planned, knowing he would likely be attacked.
"The investigation is in its final stages, and now one can really make an impact with a certain quote. The police chief didn't say anything special that calls for such a response, but we're used to the background noises and they don't bother us," one of the sources said.
Sources in the political system harshly criticized the prime minister's attack on the police chief. "The prime minister is acting like a common criminal with his unprecedented attack on the commissioner and the police," said Zionist Union leader Avi Gabbay.
"Netanyahu is humiliating us. His attack on the police commissioner is illegitimate. Instead of demanding a quick completion of the investigation, Netanyahu is choosing to attack the police chief in an attempt to undermine the citizens' trust in the law enforcement authorities," Gabbay added.
"I expect the prime minister, first of all, to apologize to the public. A prime minister shouldn't be living on other people's expensed and receiving gifts worth hundreds of thousands of shekels."
The Zionist Union leader went on to slam Netanyahu's partners in the coalition. "Unfortunately, we no longer have any expectations from the coalition members. By sitting in the Netanyahu government, they are legitimizing these attacks on the rule of law. I call on the coalition members to stop the bill to annex Judea and Samaria, which will be discussed by the Ministerial Committee for legislation next week, the same week the police are expected to publish their recommendations. This is a proposal for lands in exchange for corruption, a proposal which is a political bribe to the coalition members."
Yesh Atid leader Yair Lapid slammed the prime minister too. "Netanyahu's attack on the police commissioner before the publication of the recommendations is a desperate act of an interrogatee who has decided to use his high position to threaten the rule of law and vilify the police, who are protecting all of us."
Former Prime Minister Ehud Barak also criticized Netanyahu. "Panic on Balfour Street. Bribery? Fraud and breach of trust? Suddenly, the suspect doesn't have full confidence that the attorney general would be able or want to rescue him. The result is a hysterical attack on the police commissioner. The distress and hysteria are leading Bibi. The state can't be run like this. In a few days, it will be time for a resignation or a 'leave of absence.' At this time, the Likud and coalition leaders are being put to the test."
Minister Tzachi Hanegbi responded Thursday to Alsheikh's claims that private investigators were sent to follow the investigators in the Netanyahu case files. "Threatening investigators is a much more serious offense than cigars," he told Army Radio. "Find a way to verify the accusations. They can't be left hanging in the air like a sword over Netanyahu's head."
'It's my job'
At the beginning of the "Uvda" interview, Alsheikh addressed Prime Minister Netanyahu's claim about a month and a half ago that 60 percent of police recommendations are thrown in the trash. "I think that at the first moment I said to myself, 'We won't respond, we're not part of this business.' Sometimes, it's hard to keep your mouth shut. We're human beings too. We have a desire to say what's in our heart."
Asked if investigators were trying to collect information on police officers, he replied: "I said they were powerful elements, because at the end of the day we know who these elements are, and someone apparently has to pay them. So it really bothered us." He confirmed that these people were involved in the prime minister's investigations.
"It doesn't always serve our main investigation," he explained when asked why this wasn't being investigated. "There is a situation in which we find it inconvenient to disrupt or pollute a different investigation. I felt an investigator shouldn't be subject to external pressure through his family. So I responded publicly, and it stopped. I'm talking about facts, not rumors. That's why I went public. I thought it would be enough to say it was unacceptable, and it stopped."
"I don't take pleasure in it, but it's my job," Alsheikh said when asked how he would feel if he were to be remembered as the police chief who brought down a sitting prime minister. "The police sometimes search for things in unpleasant places. It's not a great pleasure to be in the Israeli society's ER. Sometimes it's unpleasant. I would like to believe that the purpose of my appointment wasn't inappropriate."
Alsheikh confirmed that the possibility that he would be appointed Shin Bet director at the end of his term as police commissioner was raised in a conversation with Netanyahu. "There were numerous promises, proposals. This idea was also raised in a conversation with the prime minister, and in certain stages it may have seemed logical to some people."
Alsheikh met with his organization's senior brass Wednesday evening to discuss providing recommendations on indictment in cases pending against Prime Minister Netanyahu, with seeming consensus forming on recommending charging Netanyahu on the illicit gifts affair, as sufficient evidence exists to indict him for receiving bribes.
The police did, however, appoint a team to examine "holes" still existing in the case, before a recommendation is made to the State Attorney's Office. Police sources said a recommendation may be made as early as next week.
Former head of the police's Investigations and Intelligence Division Meni Yitzhaki, its current head Gadi Siso, Lahav 433 Commander Roni Rittman and chief of the National Unit for Fraud Investigations Koresh Barnur were also present at the meeting with Alsheikh.
As for businessman Arnon Milchan, himself suspected of bribing the prime minister, police is not expected to recommend he be indicted—as he is expected to serve as a witness for the prosecution.
On Case 2000, involving conversations that took place between Prime Minister Netanyahu and Yedioth Ahronoth publisher and owner Arnon Mozes, opinions were still split among police's brass, leading them to consult legal advisers to assist in making final recommendations to the prosecution.
As the council of police higher-ups was convening, Prime Minister Netanyahu published a Facebook video in which he said, "There may be recommendations, but there was nothing."
"Many of you are asking what is going to happen," Netanyahu said. "So I'm here to calm you down: there won't be anything, because I know the truth.
"Israel is a law abiding state. The law says that the person tasked with determining whether there is evidence of alleged wrongdoing by the prime minister is the attorney general, and he consults with the state attorney—who himself said in the Knesset recently that roughly half of police recommendations conclude with nothing."
"So don't be nervous," Netanyahu added. "There may be recommendations, or signs saying 'Bibi is guilty until proven innocent' or other improper pressures. But I am certain that at the end of the day, the qualified legal authorities will reach a single conclusion, the simple truth: there is nothing."
Moran Azulay contributed to this report.