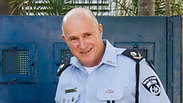 Roni Rittman
Photo: Ido Erez
Lahav 433 head resigns amid sexual misconduct allegations
Forced to take a leave of absence for following allegations of sexual harassment in 2015 and reinstated only two months ago, Lahav 433 commander Rittman resigns from his post after High Court of Justice intervenes, orders Police Commissioner Alsheikh to reconsider reinstatement.
Two months after the High Court of Justice ordered the Police Commissioner Roni Alsheikh to rethink his decision to reinstate Maj.-Gen. Roni Rittman to his former post as the commander of the police's elite Lahav 433, Rittman requested Tuesday to retire from his position.

Rittman is expected to remain in the police.

"After seriously considering the matter, I decided to resign from my post as head of Lahav 433 in the coming weeks, after a new commander is elected and an orderly on-the-job training be carried out," Rittman wrote in a letter sent to Alsheikh and to Public Security Minister Gilad Erdan.



Alsheikh decided to return Rittman to his former role in December 2015 after he was forced to take a leave of absence following allegations of sexual harassment. The police commissioner determined then there was no substantial foundation for taking administrative steps and therefore, in one of his first major decisions as police chief, decided to return Rittman to the helm of Lahav 433.

The complainant against Rittman appealed to the High Court after learning of Alsheikh's decision and the court published its verdict Monday. "We have reached the conclusion that the decision regarding Rittman in its current promulgation cannot stand," the court's ruling said, written by Justice Uzi Fogelman.

In his letter to Alsheikh and Erdan, Rittman noted that his decision stemmed from the HCJ's objection to his resumption of duties, and mainly because of the current investigations against him regarding his alleged sexual misconduct, though he did not admit to any wrongdoing.

According to senior sources within the police, Rittman has been pressured to announce his resignation before the Alsheikh had to respond to the HCJ's order.

Erdan congratulated Rittman's decision, calling it "a necessary step" towards compliance with the court.

MK Merav Michaeli (the Zionist Union) said it is "a shame that it took so long," and that it had petitions and the involvement of the HCJ to sway Alsheikh's decision on the matter.

"Rittman has to go home. And for his shameful handling of this affair, and in general, Alsheikh should go home as well," she added.