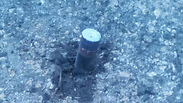 Bullet penetrating Majdal Shams home
Gunshots were fired from Syrian territory at an Israeli Skylark in the Golan Heights on Thursday afternoon.

Two bullets were fired from a Syrian machine gun at the IDF's drone, which was used to gather intelligence in the northern Golan.

Earlier that day, several bullets hit a house in Majdal Shams in the northern Golan Heights.

No one was injured, but house suffered damage.

IDF believes the shooting was due to spillover from the internal fighting in Syria.

During the years of the war in Syria, the infighting at times led to spillover of mortar shells and gunshots into the Israeli Golan. In some cases, the IDF retaliated and even destroyed Syrian army artillery batteries.

Last October, four mortar shells landed in open areas in the region. There were no casualties and no damage was done.

That same month, an American doctor was lightly wounded in the southern Golan as a result of errant fire from Syria. The man worked in a field clinic that operates as part of Operation Good Neighbor.

Last June, a few minutes before the speech of Prime Minister Benjamin Netanyahu in Katzrin, a mortar shell exploded in an open area in the northern Golan.

An hour later, the IDF attacked a mortar belonging to the Syrian regime, from which the shell was fired.