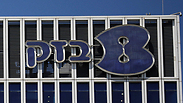 Bezeq offices in Tel Aviv
Photo: Reuters
Senior Bezeq officials, close Netanyahu associates arrested in Case 4000
Police and the Israel Securities Authority announce new probe tied to investigation into Bezeq majority shareholder Elovitch's ties with the prime minister; several past and present Walla! News officials also called to testify; Netanyahu denies acting to benefit Bezeq for favorable coverage.
A number of senior officials in the Israeli telecommunications giant Bezeq, as well as two close associates of Prime Minister Benjamin Netanyahu, have been arrested as part of a new probe tied to Case 4000, police and the Israel Securities Authority said Sunday morning.

The Israel Securities Authority has recently completed its inquiry into Bezeq majority shareholder Shaul Elovitch's ties with Netanyahu and the suspicion he enjoyed benefits for Bezeq in return for favorable coverage of Netanyahu on the Walla! News website, which is fully owned by Bezeq.

According to a police statement, in light of the evidence provided by the Israel Securities Authority, suspicion arose of additional criminal activity in the case, which provided sufficient grounds for opening another joint investigation leading to the arrest of several suspects, including former Communications Ministry director-general Shlomo Filber.

Two former officials who worked at Prime Minister Benjamin Netanyahu's office were summoned by the Israel Securities Authority on Sunday to testify in the investigation. The two held senior positions in the Prime Minister's Office, while one of them is already involved in another criminal investigation by the police.

In addition, Walla! News CEO Ilan Yeshua and former editor-in-chief Yinon Magal were also asked to testify Sunday after suspecions emerged Elovitch pressured them in an effort to influence the coverage of certain topics, including Prime Minister Netanyahu. The two are not considered suspects.

Other Walla! News officials are expected to be called to testify on the favorable coverage the prime minister received on the site.

Shortly after the developments in the case came to light on Sunday morning, a statement issued on Netanyahu's behalf slammed the claims that he engaged in quid pro quo activities with the communications giant.

"This is another lying claim. The prime minister didn't act for Elovitch's benefit, not for favorable coverage and not for anything else," the statement read.

Last November, the Israel Securities Authority announced it had sufficient evidence to indict Elovitch and former Communications Ministry director-general Shlomo Filber for a series of offenses.

The Authority also recommended the indictment of Elovitch's son, Or Elovitch, along with Bezeq CEO Stella Handler, Yes satellite TV company CEO Ron Eilon, CFO at Yes Mickey Naiman and Bezeq secretary Linor Yochelman.

Yochelman was dismissed from her position as Bezeq secretary on Sunday after an internal investigation raised suspicions she listened in on discussions of the board of directors, despite not having the authority to do so.

Channel 2 journalist Amnon Abramovich quoted police officials on Friday as saying that a criminal investigation is likely to be opened in Case 4000.