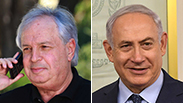 Bezeq owner Elovitch (L) and PM Netanyahu
צילום: אלי דסה, קובי גדעון, לע"מ
State to disclose details of Netanyahu-Elovitch meetings
State Attorney's Office agrees to divulge details of meetings between Bezeq majority shareholder Elovitch and PM Netanyahu; Elovitch is a prime suspect in affair dealing with his company's allegedly illicit ties with Communications Ministry during Netanyahu's 2013-2015 tenure there.
The state announced Monday it will be revealing the dates of meeting between Bezeq majority shareholder Shaul Elovitch and Prime Minister Benjamin Netanyahu, held when the latter served as communications minister, following a petition on the matter submitted to the Jerusalem District Court.

The state will also unveil the location of the meetings, which took place between January 2013 and November 2015.

The peition filed by attorney Shachar Ben Meir for the release of the records was stricken by the courts after the state's announcement.

Elovitch is the prime suspect in the Bezeq affair, which deals with alleged fraud, money laundering and illegal contact with Communications Ministry Director-General Shlomo Filber, who was appointed by Netanyahu.

"We're about to see how often the prime minister met with Elovitch, who he said was a personal friend, in the same exact period Communications Ministry Director-General Shlomo Filber thwarted the wholesale market reform (during which Bezeq was forced to share its telecommunication infrastructures with other companies for wholesale prices—ed) and allowed Bezeq to rake in a one billion shekel profit in a single year," attorney Ben Meir said.

The State Attorney's Office support the state's decision to divulge the records, a decision legal sources said came together in light of the High Court's ruling on a petition submitted by Channel 10 journalist Raviv Drucker, wherein he demanded the dates of conversations between Netanyahu and Israel Hayom publisher Sheldon Adelson and former editor Amos Regev be divulged.

Regarding the prime minister's meetings with Elovitch, the State Attorney's Office said, "The Prime Minister's Office holds only information regarding the date of each meeting, where it was held and the identities of the persons attending. It does not have any information regarding the content or the duration of the meeting, as they were private meetings and therefore no minutes were taken."

"The state's stance is based on the High Court's ruling according to which divulging only the dates of phone conversations does not reveal the nature of the relationship between the parties to the call and constituted a 'light injury on the fringes of the right to privacy.'"