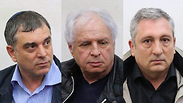 L-R: Filber, Elovitch and Hefetz
Photo: Motti Kimchi, Orel Cohen
Bezeq chief Elovitch, Netanyahu's associates Hefetz, Filber arrested in Case 4000
Gag order lifted from Bezeq corruption affair, allowing to disclose identities of suspects arrested: Bezeq majority owner Shaul Elovitch, Netanyahu's former media adviser Nir Hefetz and former Communications Ministry director-general Shlomo Filber; testimonies, texts, emails allegedly point to quid pro quo relationship of Bezeq benefits in exchange for favorable coverage for the Netanyahu family; also arrested were Elovitch's wife, son and Bezeq CEO Stella Handler.
Bezeq majority owner Shaul Elovitch, former media adviser to Prime Minister Benjamin Netanyahu Nir Hefetz and former Communications Ministry director-general Shlomo Filber are among those arrested Sunday in the Bezeq corruption affair, it was cleared for publication late Monday.
Or and Iris Elovitch, the son and wife of Bezeq's owner, and CEO Stella Handler were also arrested.
Suspects are alleged to have either given or received bribes, in a quid pro quo relationship involving actions that benefited Bezeq and Walla! News—a news site owned by the telecommunications giant—in return for flattering coverage of Prime Minister Netanyahu and his family.
The prime minister himself is expected to be questioned in the affair in the near future, in fact, as is his wife Sara, who is set to give testimony due to her relationship with Iris Elovitch.
Police investigators have obtained text messages, emails and recordings of some of the people involved, who were arrested Sunday, with their remand extended at the Tel Aviv Magistrate's Court by four to five days.
Police and the Israel Securities Authority hold a highly significant "golden testimony" by one of the suspects involved, according to source with knowledge of the investigation.
Said testimony was presumed to be the reason the suspects' attorneys did not object to the police's requests to remand their clients.
The affair deals with an allegedly reciprocal relationship between Netanyahu and those close to him and senior executives at Bezeq and Walla! News—and the possibility that favorable coverage was afforded to the Netanyahu family in return for promoting the two companies' economic interests.
The initial break in the case took place Sunday, when police and the Securities Authority announced the arrests. A gag order was placed on information pertaining to the investigation, however, which has just been lifted.
The police's announcement said that due to evidence collected by the Securities Authority, which raised suspicions that further offenses were committed, a new joint investigation was underway.
The Bezeq affair began as a solo investigation by the Israel Securities Authority, which concluded with the recommendation to indict senior Bezeq executives, including Elovitch and Handler, as well as senior officials at its subsidiary, satellite television provider Yes.
Elovitch financially benefited from approved deals in a manner that may constitute fraud, the summation handed over to the State Attorney's Office showed, whereas then-Communications Ministry director-general Filber worked on Bezeq's behalf while withholding information from professional ranks.
Filber is also said to have leaked to the company classified documents for them to provide their comments and engineer to their own needs.
Questions about Filber's conduct vis-à-vis Bezeq were also raised in the State Comptroller's report this past July. Filber is currently suspended from his position since being questioned under caution at the beginning of the Securities Authority's investigation.
Several months ago, the police asked to receive the investigation materials from the Securities Authority and launch an investigation of their own, but their request was declined by the Securities Authority, which sought to complete its financial investigation first.
However, the police continued investigating prominent figures in the case such as Elovitch, Filber, Hefetz and Handler even before receiving the materials.
Their investigation found messages that were sent to Elovitch from people close to Netanyahu asking for favorable coverage for the prime minister on Walla! News.
The police team is also said to be on the brink of signing a state witness agreement with one of the suspects, but remained mum on their identity.
While the agreement had not yet been formally finalized, police nevertheless obtained key testimonies, including from some of those involved.
A parade of witnesses
Among those called in to provide testimony on the affair were Walla! News chief executive officer Ilan Yeshua, past and present editors-in-chief of the site, former director-general of the Prime Minister's Office Harel Locker and former Netanyahu bureau chief David Sharan. None of the aforementioned are suspects.

Both Yeshua and Yinon Magal, a former Walla! News editor-in-chief, confirmed to investigators that the site's editorial staff was under pressure to publish articles favorably covering the Netanyahu family.

This pressure, police suspect, was the return for the exceedingly lenient terms Elovitch benefited from in regulatory oversight of Bezeq and Yes transactions.

The first to be remanded was Elovitch, who is suspected of offenses relating to the Securities Law, fraud and breach of trust, fraudulently obtaining benefits, money laundering and bribery.

Judge Ronit Poznanski-Katz hinted while the gag order was still in place that a break in the investigation was reached raising suspicions that said offenses were indeed committed by the business mogul.

The judge's statement seemed to corroborate defense attorneys' suspicions that one of the suspects involved provided a detailed account to police and was on the verge of inking a state witness agreement.

Elovitch's attorney, Jack Chen, was on Netanyahu's own defense team for the illicit gifts (Case 1000) and Mozes conversation (Case 2000) investigations, and resigned from the prime minister's defense team due to this conflict of interests.

Earlier Monday, Elovitch commented on developments surrounding the corruption investigation. A statement put out on his behalf said he "unequivocally denied suspicions against him."

"We suggest remaining patient and not jumping to conclusions. We are certain that when things become clearer, it will be proven he had committed no crime," the statement concluded.

Media adviser Nir Hefetz was also remanded until Thursday. Investigators say he allegedly received bribes and committed obstruction of justice. During the hearing, it was revealed Hefetz provided detailed testimony to the Securities Authority this past December, during which he was asked of his ties to Filber and Elovitch.

Channel 10 News published recordings Sunday in which Hefetz was heard boasting of his good relations with Elovitch. "If you need anything, just say so. It's the closest possible ties," he said in a conversation with another businessman that took place 18 months ago.

Later, Hefetz also reportedly shared plans for the creation of a new television channel.

His attorney said, "Hefetz was called in to testify only six weeks ago at the Securities Authority and answered all of the questions he was asked. Legal proceedings say that it should be made clear to someone under investigation he may become a suspect. The Authority did not do this, which is highly significant to his continued investigation. I'm convinced that the investigation will conclude he is no longer a suspect."

Former Communications Ministry director-general Filber, already arrested during the Securities Authority investigation, is suspected of receiving bribes and obstruction of justice.

Filber is suspected of being the main axis connecting the Netanyahu family and Elovitch's businesses. As director-general, he is suspected of looking after Elovitch's business interests and providing benefits relating to Bezeq, in return for which he was allegedly bribed by Elovitch.

One arrest that came as a surprise to the other suspects was that of Bezeq CEO Handler. She was called in to the Securities Authority early Sunday to provide testimony, and was not initially arrested along with the others.

Late Sunday, however, a decision was reached to also detain Handler and she was remanded on suspicion of bribery, among other things.

Her attorney said, "My client is fully cooperative and disavows the suspicions against her. We are of the opinion she should not have been arrested, and hope her freedom will not be denied her further. Mrs. Handler is confident of her innocence."
PM Netanyahu: 'A witch hunt in full swing'
Prime Minister Benjamin Netanyahu commented on the affair Sunday, and said, "This is another false investigation kicked off due to media pressures. The media witch hunt is in full swing. After the air went out of (cases) 1000 and 2000, and it turned out there was no air at all in (case) 3000, the media exerted enormous pressure to create a new balloon—4000 (the Bezeq affair). All the air will come out of that as well."

Case 1000 is the police's name for the illicit gifts affair, whereas cases 2000 and 3000 concern Netanyahu's talks with Yedioth Ahronoth owner and publisher Arnon Mozes and a deal to purchase submarines from the German ThyssenKrupp company respectively.

"The Justice Ministry made clear in the State Comptroller's report on Bezeq: 'The prime minister made no controversial decisions. No decision benefited Bezeq specifically and may be said to have been controversial, or affected by a conflict of interests.' This artificial bubble will also burst," the premier concluded.

The investigation's public phase began in June 2017, after it was conducted covertly for a time. During the course of the investigations, suspicions were examined for committing offenses relating to reporting, fraudulently obtaining benefits, fraud, breach of trust in a corporation and obstruction of justice.

The investigation related to suspicious conduct by senior officials at Bezeq, satellite TV company Yes and Spacecom, as well as several public officials who—in the course of the administration of their duties—worked with Bezeq.

This past November, the Securities Authority announced evidential critical mass was reached to indict Shaul Elovitch and Filber. The Authority recommended Elovitch's son Or, Handler, Yes CEO Ron Eilon, yes CFO Micky Neiman and Bezeq secretary Linor Yochelman also be indicted.