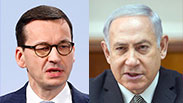 Polish PM Mateusz Morawiecki (L) and Israeli PM Benjamin Netanyahu
Photos: Reuters, Emil Salman
The controversial Polish Holocaust Law imposing jail terms for suggesting the country was complicit in the Holocaust will not be implemented until further discussions in the Polish Constitutional Court and until Israeli and Polish delegations have met to consider rewording it, according to the Polish justice minister.

The law was approved at the beginning of February by President Andrzej Duda, triggering a major diplomatic feud between Poland and Israel, with the latter condemning what it described as Polish attempts to shirk responsibility for its role in the Nazi Jewish extermination program.

Prime Minister Benjamin Netanyahu instructed the Israeli Foreign Ministry to express its reservations about the law, and to arrive at an understanding before the law is implemented.

To that end, according to Hadashot news, an Israeli and Polish government delegation will meet in a bid to amend the law so that it is mutually acceptable to both sides.


Polish Foreign Minister Zbigniew Ziobro, who also serves as the country's state prosecutor, was interviewed on Friday by the Polish news agency PAP and indicated that the law will not be implemented at this stage, despite being ratified, until the Constitutional Court makes a ruling.

The words of the justice minister and the state attorney are binding on the judicial system.

Ziobro sought to highlight during the interview that the law does not prohibit references to crimes committed by individual Poles and groups and added that it will not apply to Holocaust survivors, journalists or academics.

Israel's Ambassador to Poland Anna Azari met a few days ago with Ziobro where the two agreed to remove barriers preventing delegations from the two sides meeting to discuss the matter.

In doing so, the Poles responded to the Israeli condition that it would only accept a delegation flying to Israel for the sake of working together to find a solution that would see a change in the drafting of the law.

The Poles assembled a team comprising five experts and the two sides, beset by the diplomatic deadlock, agreed that the delegations would reach an agreement on the issue.

Director-general of the Israeli Foreign Ministry Yuval Rotem hailed the development. "This is a significant achievement that came about after continued discussions. We will continue with our dialogue in order to reach an understanding on the matter," he said.

Poland found itself rapidly falling out of favor with Israel after a string of controversial actions and statements emanating from the right-wing government provoked Jerusalem.

The Polish Prime Minister Mateusz Morawiecki sparked outrage last Saturday after a photo on his Twitter page showed him paying his respects to a Polish underground movement that collaborated with the Nazis during World War II.

Morawiecki visited the memorial site in Munich, exacerbating the developing enmity after he made controversial remarks to Yedioth Ahronoth journalist Ronen Bergman, claiming there were also "Jewish perpetrators" in the Holocaust.