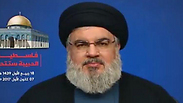 The IDF's Ground Forces Command has been developing new weapons systems that will reshape the battlefield for the infantry, armored corps, combat engineering units and artillery forces, as troops are expected to face a whole new series of threats on land, in the air and below ground.

The Command revealed this week a number of new weapons that are already being integrated into the IDF's forward units, and others that will are still in development and will be integrated gradually in the coming years.

Weapons systems developments (צילום: ניצן דרור, דובר צה"ל)

For example, maneuvering forces will be outfitted with an "Iron Dome" of sorts that can identify, warn, and even deflect threats directed by Hamas or Hezbollah at concentrated groups of IDF forces.

Threats include booby-trapped multicopter drones, "kamikaze drones," and short-range rockets that can hold half a ton of explosives. Intercepting such threats will be carried out in a number of ways, including interceptive rockets, laser beams and radio scrambling using electronic warfare.

It has not yet been decided whether the modern anti-aircraft units will be part of the reconnaissance infantry battalions, which are generally at the frontline of the battle, or as part of a new brigade based on conventional artillery units.

In addition, integrated fighting forces will receive lethal tactical firepower: company, battalion and brigade commanders will receive loitering munitions in the form of small UAVs carrying explosives that are able to attack a nearby target with an accuracy of up to one meter.

Forces will also have accurate mortar shells, dozens of Skylark-III drones, which are similar but bigger than the existing Skylark-I drones, dozens of drones that can carry out rescue or supply missions, and most importantly—an aerial command center attached to the brigades or corps that will operate the drones and direct them to land to make way for a rescue helicopter, for example.

The Ground Forces Command is in discussions with the Air Force regarding aerial jurisdiction between the two units. Currently, the discussions are on a 3,000 feet limit for the ground forces.

Ahead of next decade's purchase of aircraft, the Ground Forces Command plans on recommending to the IAF the American Boeing CH-47 "Chinook" tandem-rotor helicopter, instead of the six-bladed Sikorsky CH-53 Sea Stallion helicopter.

In the field of robotics, remote-controlled engineering bulldozers will be utilized against enemy anti-tank forces and IEDs (Improvised Explosive Devices) in addition to unmanned firing and observation systems that will lead forces.

The next generation of artillery cannon, already a prototype, will be faster and more accurate at distances of 40 km. Its fire capacity per-cannon will rival that of an entire battery. A 3-5 man team will man the guns, as opposed to the current squad of 11, and the loading mechanism will be semi-automatic. The first 100 guns will be on wheels, not tank treads, a move that will allow the IDF to cut between 25 percent and 40 percent of its current arsenal.

Ammunition is also undergoing innovation, with kamikaze drones and UAVs for intelligence gathering and for attack. Some already exist in the Ground Forces' Special Forces units and are used to target enemy structures.

"In modern warfare, the battalion commander or the division commander can't drop a JDAM bomb from a fighter jet on every target," a senior Ground Forces officer explained. "That is why we developed a series of precise munitions, such as the 120mm mortar, which is accurate up to five meters from the target, and guided missiles such as the future Lahav missiles. We will also incorporate a system of sensors to scan the area using different tracking measures, such as radars, and locate hidden enemy forces from up to 10 km. away."
'The enemy will launch thousands of rockets a day'
In a briefing to reporters Tuesday, a senior officer said that in the next war, there will be no alternative but to deploy ground forces to carry out a rapid and deep penetration in order to conquer the enemy's territory, eliminate him (rather than "neutralize"), and destroy its weapons stores, especially rocket launchers, in order to decrease the rocket and missile fire on the home front.

"The enemy will launch thousands of rockets daily at population centers. In such a multi-front war, we will draft the entirety of the Ground Forces, including territorial reserve battalions from the Judea and Samaria Division and the Sinai border," said the officer. "If war breaks out tomorrow, we will be up to the challenge.

"There is agreement among senior army staff that in the next war, missiles falling on population centers in the center will mandate the army command to rapidly deploy Ground Force maneuvers," he continued.

The officer added that "The standing army can work with reserve forces; the war might last a few weeks until we deal a decisive blow, but not months. Citizens do not have to prepare for another Yom Kippur War. In the next war, we will deal with tall buildings in urban areas, and against an experienced enemy like Hezbollah, which will take play off the 'night advantage' by equipping itself with night vision gear.

"We have strengthened command integration. No more will it be infantry alone or Armored Corps alone. In the brigade exercise carried out last week, the Armored Corps colonel had more infantry units under his command than tank companies," he said.

The officer did not shy away from discussing decisive victory, a vague term in an age of asymmetric warfare between semi-military terror groups and nation state armies. "No one has a clear definition of what victory is. Victory is a mix of tactical gains along with command achievements, such as the killing of (Hezbollah leader Hassan) Nasrallah," he explained.

The officer admitted that the primary disadvantages in the Ground Forces are related to mobility and equipment. Special Forces have the best mobility capabilities while many units operate trucks that are very old. 300 new trucks are expected though by the end of the year.

Commander of the Ground Forces, Maj. Gen. Kobi Barak, said that the chance for war increased in 2018, but that does not mean Israel has an interest in another round of fighting.

The officer also delivered an update on the status of women being integrated into the Armored Corps to protect the borders. The first group has already completed training and is stationed on the southern border and three are set to go to tank commander school, which will be separate from the men's course.