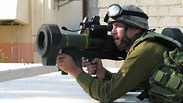 The Spike SR rocket launcher
Photo: Rafael Advanced Defense Systems
The IDF has completed a multimillion shekel deal with Rafael Advanced Defense Systems recently, centering on the purchase of thousands of Spike SR rocket launchers for its infantry forces.

The launchers were specially customized to the IDF's needs, reducing their weight by 40 percent.

The Spike SR's weight reduction was meant to allow infantrymen with greater flexibility while they operate them in the field during land maneuvers.

The Lightweight Buster in action (צילום: דו"צ)

The launcher was a first-of-its-kind collaborative development project between the IDF's Ground Forces and Rafael, as part of the former's "Land on the Horizon" program to improve the efficacy of the army's land maneuvers and ground forces' readiness for emergency and wartime scenarios.

The project's development was couched in the lessons the army derived from Operation Protective Edge and the launcher itself is in tune with the ever-changing nature of warfare.

The Spike SR is to be used mounted on a soldier's shoulder. It has unique operational characteristics suited to modern warfare and especially fitted for ground maneuvers.

The launcher will allow soldiers to transport it manually in a quick and easy manner, as well as to operate it on the fly, allowing for precise, lethal hits on structures at ranges of hundreds of meters.

Head of the Ground Forces' Armaments Division Col. Ariel Avivi said, "The agreement (with Rafael) is part of a growing trend in the Ground Forces to improve infantrymen's lethality."

"The Spike SR allows ground forces deep inland to shed some carrying weight without hampering performance. It will also endow them with operational independence and precise, quality firepower at short intervals," he added.

Tzvi M., head of Rafael's Precision Tactical Weapon Systems Directorate, explained that the Spike SR met the IDF's needs for lethal weapons in full, "and constituted another facet in the IDF ground forces' strength and technological edge against enemy capabilities."